Nelson Mandela Memorial LIVE: Complete Updates As South African Mourns Their Leader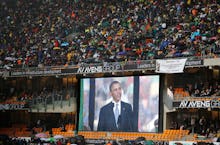 Nelson Mandela's memorial will start on Tuesday, and his remains will lie in state until Friday. His funeral will be on Sunday. The funeral may be the biggest in history, drawing millions of people.
Planning has been underway for Mandela's funeral and memorial since late last week. The government said 59 heads of state are confirmed attendance at the Tuesday memorial service, and possibly close to 125,000 people. George H.W. Bush, the Obamas, and the Clintons are all attending. 
Here is the official program for the Tuesday event, including a speech by President Barack Obama.
According to USA Today, the memorial will be held at FNB Stadium, named for a South African bank: 
"The stadium seats 94,000 people but 'overflow stadiums' have already been established because of the anticipated crowds arriving on a first-come, first-serve basis. The stadiums hold a total of about 125,000 people. Military helicopters and police armored vehicles will be positioned throughout the Gauteng province of Johannesburg.
Following the Tuesday service will be a three-day event in which Mandela's body will lie in state at the government house in Pretoria. The Johannesburg police said they expected tends of thousands of people waiting in long lines.
On Sunday he is to be buried in his home village of Qunu, which is in the eastern part of the country and closer to the ocean." 
Editor's Note: This story has been updated to remove language that was used without attribution to USA Today. We apologize to our readers for this violation of our basic editorial standards. Mic has put in place new mechanisms, including plagiarism detection software, to ensure that this does not happen in the future.