Definitive Proof That the U.S. National Team Is Screwed In the 2014 World Cup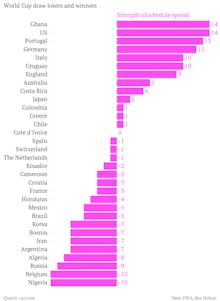 By now, you've probably heard that the United States Men's National Soccer Team got royally screwed during the FIFA World Cup Draw on December 6.
The U.S. team landed in the "Group of Death" along with world soccer powerhouses Germany and Portugal, and Ghana, the country that just happened to knock us out of the past two World Cup tournaments. The U.S. team's chances look pretty bleak.
Though the drawing probably wasn't rigged like some internet theories are suggesting, it's pretty undeniable that the U.S. had some really crappy luck. And now, Ben Hoban has proof of just how crappy.
Hoban took FIFA's team rankings, and seeded the World Cup tournament like the NCAA Men's Basketball tournament is seeded, with the best team facing the worst team to start the bracket, and so on. He then figured out the schedule for each World Cup team based on his "fair" seedings, and compared that to the actual FIFA draw. Turns out, the U.S. team's actual schedule will be much more difficult than it would have been with Hoban's bracket seedings. Check out the graph from Quartz:
Source: Quartz
The U.S. team will face opponents with an average rank 14 places higher than Hoban's seedings suggest it should. In fact, all four teams in Group G are at the top of the graph, meaning all four will face much more different opponents during group play than they would have. Perhaps it truly is the "Group of Death."
But if you look at ESPN's Soccer Power Index, the U.S. actually has almost a 40% chance of advancing to the elimination round. Portugal has slightly better chances, and Ghana slightly worse. Germany is all but a lock at this point, with over a 90% shot at advancing.
Still, the U.S. might not even be in the hardest group. Germany is the only team in ESPN's SPI Top 10 from their group, while Group B has three teams – Spain, Chile, and the Netherlands – all in the Top 10. No wonder Australia has less than a 1% chance of advancing.
So take heart, America. Yes, you did have truly terrible luck during the FIFA draw. But hey, it could always be worse. Right?