How America, And the World, Will Age Over the Next 40 Years — In GIFs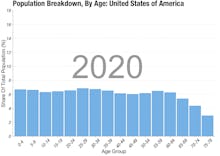 With so much hubbub being made over retiring Baby Boomers in the United States, it feels sometimes like the country is made up almost exclusively of old people and millennials are outnumbered. But how exactly is America's population changing? Check this GIF, courtesy of NPR:
Source: NPR
America is indeed getting older. As time progresses, young people will make up a smaller percentage of the U.S. population, while those above the age of 50 will comprise a larger percentage. America in 2050 will have an overall older population than it does in 2014, and far older than it had in 1960. But it won't be only old people, I promise. 
And it's in line with global trends. The world population overall is getting older. The percentage of young people in the world population has dropped precipitously over the past 50 years, and it'll continue to drop:
Source: NPR
Most of that global aging is driven by economically developed nations, like America. But the U.S. doesn't hold a candle to Japan, which has seen its population swing drastically since 1960.
Source: NPR
Remember, though, that the world is made up of more than 7 billion people. Not every nation is aging. Take Nigeria, for example. Estimates predict Nigeria's population will overtake the U.S. population in 2045, becoming the third most populous nation in the world. And Nigeria's population is overwhelmingly young: 
Source: NPR
So yes, there will be young people in the future. The majority of them will simply be found outside the U.S., and the rest of the current developed world. It makes sense: Young nations have young populations. And even still, it's not like old people are the worst things in the world.