Macaulay Culkin Has a Pizza-Themed Velvet Underground Cover Band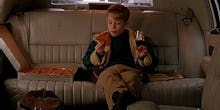 In case you were busy holiday shopping and missed it, Macaulay Culkin is back from the dead (or wherever Hollywood sends exiled child stars) and has started a pizza-themed cover band called The Pizza Underground.
Yes, you read that correctly, it's a band whose sole EP — recorded at Culkin's house on Nov. 11 — is devoted to the worthy topic of pizza, and to The Velvet Underground covers. With classics like "Pizza Gal" (as opposed to The Velvet Underground's "Femme Fatale") and "I'm Waiting for the Delivery Man" (vs. The Velvet Underground's "I'm Waiting for the Man") the band has become an internet hit amongst '80s-born millennials whose nostalgia for '80s and '90s movies (ahem, Home Alone) is only surpassed by our nostalgia for '80s-'90s music (ahem, The Velvet Underground).
The hipster-looking, mustachioed and sunglassed Pizza Underground includes five members: Culkin (percussion/kazoo/vocals), Matt Colbourn (guitar/vocals), Phoebe Kreutz (glockenspiel/vocals), Deenah Vollmer (pizza box/vocals), and Austin Kilham (tambourine/vocals). According to kazoo-aficionados, Culkin isn't half bad, and in a year where music news has largely been drowned out by the drivel of fans and haters (ahem, Miley Cyrus' twerking) the news of The Pizza Underground and its 9 minutes of quirky little parodies, is earnestly welcome.
The EP was released on Dec. 2, and pizza-lovers and '80s lovers alike have since lost their collective minds.