Pussy Riot May Be Freed From Russian Prison Soon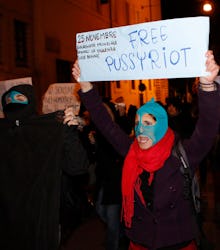 The news: Jailed members of Russian punk band Pussy Riot may be released from prison. Russian newspaper Izvestia reported Monday that an amnesty bill submitted by Russian President Vladimir Putin could apply to two members of Pussy Riot, Nadezhda Tolokonnikova and Maria Alekhina. 
There has been no confirmation that the Pussy Riot members will be released come January 1, but they appear to be eligible under the amnesty bill's stipulations. The bill calls for the release of individuals convicted of hooliganism, the charge against Tolokonnikova and Alekhina. Also eligible for release are mothers convicted of nonviolent crimes —– both Tolokonnikova and Alekhina have young children.
The backstory: The trial and conviction of Pussy Riot made international headlines. Arrested for their performance in a restricted section of the Cathedral of Christ the Savior in Moscow, Tolokonnikova and Alekhina were tried and sentenced to two2 years in a penal colony for hooliganism charges in Augsut 2012.
Also eligible for amnesty under Putin's bill are the Greenpeace activists arrested in October 2013, originally charged with piracy, which was eventually downgraded to hooliganism.
Why this matters: Most believe the Pussy Rriot members never should have been imprisoned in the first place. Since the start of their sentence, Tolokonnikova and Alekhina have become symbols of the fight for reform in Russia.
Putin's bill is auspiciously timed to grant amnesty just before the rest of the world comes to Russia for the Sochi Olympics. If Tolokonnikova and Alekhina are indeed released from prison, the world mustn't let them fade from memory. Yes, their release would be a very good thing. But it's simply righting a previous wrong. Granting amnesty doesn't rectify the injustice that led to their conviction in the first place. It's about time they're released.