These Are the Best Cities For Millennials That You Haven't Heard About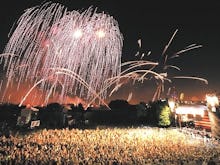 If you want to find out what older generations think of millennials, you just need to pick up TIME magazine or a handful of widely ridiculed op-eds. But if you want to find out how young Americans really live, you must read Nona Willis Aronowitz. Through her book Girldrive: Criss-Crossing America, Redefining Feminism and her work for outlets like the Nation, Tomorrow magazine, GOOD magazine, and the Atlantic Cities, the New York-based writer has made it her mission to profile the millennial generation, whom she freely admits to being "obsessed" with.
Nona sat down with PolicyMic to talk about her most recent project, a series of articles published for the Atlantic Cities about "Where Millennials Can Make It Today." That young Americans are moving back to cities is a well-worn trope by now, but throughout her profiles of nine different U.S. cities, Willis Aronowitz wanted to uncover something else: "What are some up-and-coming cities that aren't national media darlings?"
Aided by some funding from Pipeline, a network for progressive young professionals that's a part of the economic think tank The Roosevelt Institute, she set an itinerary and started finding ways to tell millennials' stories from the ground up. 
While Willis Aronowitz visited dozens of places, the final Atlantic Cities series profiled nine cities, split up into four categories: "Small Ponds For Big Fish" (Omaha and Jackson, Miss.), "The Gems Next Door" (Jersey City and Milwaukee), "Towns Luring Back Their Townies" (Cleveland, Pittsburgh, and Albuquerque), and "Budget Boomtowns" (Houston and San Antonio).
Jordan Fraade (JF): What's the goal of your series?
Nora Willis-Aronowitz (NWA): [I'm a] sucker for people showing me around ... [I wanted to find] patterns that are defining the millennial geographic experience, and [these] are some prototypes of those patterns.
JF: What are millennials' priorities?
NWA: A fulfilling job, especially to an increasingly educated population, is important, especially if we're not going to be compensated fairly.... Something else I think is particularly millennial is wanting a sense of ownership and community. I think it's important to us not to blend into the crowd. Conformity and comfort aren't on the top of our priority lists.... Millennials are risk-averse. And I think across socioeconomic backgrounds, we're craving some sense of low cost of living and a high quality of life to temper this economic instability.
JF: Do you believe millennials are giving up on the American Dream?
NWA: Some millennials I met on my trip genuinely did want what their parents wanted. They chose where they lived based on wanting to be homeowners. … But there is a very vocal cohort of young people who don't want those same things, and who are delaying childbirth and marriage on purpose so that they can fulfill professional, activist, creative, artistic goals and be active in their communities. ... I've spoken to hundreds of young people in the last few years, and the car as a symbol of the American dream has certainly eroded, which I think of as a positive development.
JF: What lessons from the nine cities you visited do you think big-city dwellers could take to heart? What can New Yorkers and San Franciscans learn from millennials in San Antonio?
NWA: When your rent is $300 a month, it's just so much easier to get things done.... You can really become a big fish in a small pond, and I think that's more important than ever, now that these bigger, glitzier cities are harder and harder to make it in.