These Are the Most Checked-In Places On Facebook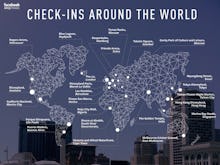 Facebook's 2013 data has been thoroughly analyzed, and four of the top 25 locations for users to check in (excluding transportation nodes like airports or Grand Central) were Disney resorts.
Disneyland Tokyo, Disneyland Hong Kong, Disneyland Paris, and Disneyland California all scored in the most popular Facebook locations on the planet.
So did Hamburg, Germany's, Reeperbahn, a seedy, brothel-laden red-light district known as die sündigste Meile (the most sinful mile).
However, it's less likely that people want to let their relatives know their carnal urges so much as the area's history: The Reeperbahn is where the Beatles played for two years before they became famous.
Here's the full list of top check-ins:
Argentina: Puerto Madero, Buenos Aires 
Australia: Melbourne Cricket Ground (MCG), East Melbourne, Victoria 
Brazil: Parque Ibirapuera, São Paulo
Canada: Rogers Arena, Vancouver, British Columbia 
Egypt: Sharm el-Sheikh, South Sinai Governorate, Egypt
France: Disneyland Paris, Marne La Vallée
Germany: Reeperbahn, Hamburg
Hong Kong: Hong Kong Disneyland
Iceland: Blue Lagoon, Reykjavík, Iceland 
India: Harmandir Sahib (The Golden Temple)
Italy: Piazza San Marco, Venice
Japan: Tokyo Disneyland, Tokyo
Mexico: Auditorio Nacional, Mexico City 
Nigeria: Ikeja City Mall, Ikeja, Lagos, Nigeria
Poland: Temat Rzeka, Warsaw 
Russia: Gorky Park of Culture and Leisure 
Singapore: Marina Bay Sands
South Africa: Victoria & Alfred Waterfront 
South Korea: Myungdong Street, Seoul 
Spain: Las Ramblas, Barcelona, Catalonia 
Sweden: Friends Arena, Solna
Taiwan: Tainan Flower Night Market, Tainan City
Turkey: Taksim Square, Istanbul
United Kingdom: The 02, London
United States: Disneyland, Anaheim, California
Some of the places on the list are pretty unsurprising tourist attractions (the aforementioned Disneys, London's The 02, Egypt's resorts at Sharm el-Sheikh, and Iceland's Blue Lagoon), but others seem like more recent additions. Russia's Gorky Park was renovated by Sergey Kapkov after a change of Moscow mayoral administrations in 2010, transforming it from a decaying, Soviet-era amusement park ridden with decrepit rides and abandoned plazas into a blossoming park of "verdant tranquility" and free Wi-Fi. Taksim Square is doubtless not Turkey's #1 check-in for its grass and benches, but rather for the massive, country-rocking protests which started from an Occupy movement in the park. And while outsiders might assume that the Taj Mahal would be India's most famous check-in, it's actually Harmandir Sahib (the Golden Temple), which attracts millions of Sikh pilgrims every year.
Since Facebook has only provided the data for each country rather than a total ranking, we may never know for sure which of the 25 contenders came in #1. But odds are likely it's a Disneyland.