Listen to a 26-Year-Old Otis Redding Sing the Greatest Soul Christmas Song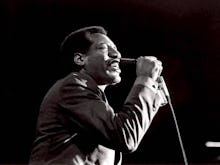 Otis Redding died on December 10, 1967, when his private plane crashed into Lake Monona in Madison, Wisconsin. He was 26-years-old, and had recorded "Sittin' on the Dock of the Bay" three days before the crash.
A year after his death, his label released "Merry Christmas, Baby."
The song was written by Lou Baxter and Johnny Moore, and first made famous by Charles Brown (not of the Vince Guaraldi fame). Brown's version is a sleepier, bluesier version. Redding's, true to form, is a joyous track driven by a rollicking organ line and some barely on-time sleigh bells. It's sloppy and uplifting.
Soul, funk, and R&B have yielded some excellent Christmas music because the genres are so well-suited to conveying joy. The best tracks, like "Merry Christmas, Baby" or "This Christmas," are never quite as somnulent as records like Bing Crosby's "White Christmas" or Dean Martin's "Christmas Blues," which are more like Christmas drugs than calls to celebration.
Those genres, however, have also given us some of the worst Christmas music out there. And, given the field, that's pretty impressive. The worst tracks have cheap, glitzy production, and soul sounds but very little life. This is perhaps best illustrated by James Brown's horrifying "Funky Millenium Christmas":
For artists like Brown, Christmas albums are quick money-makers. But it's worth remembering Otis Redding today, on the anniversary of his death, for this song which passed relatively unnoticed even after "Sittin' on the Dock of the Bay" became a hit. Redding sings this one as well as any of his songs. Life is pretty great for his character in the song — "Everything here is beautiful," he sings at the end. Yet he delivers every note with a full range of his emotions. As in his best performances, there's a husk of sorrow around each joyful note.