This German Delivery Company Already Has Postal Drones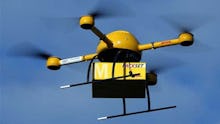 The news: While Amazon's delivery drones may not take off any time soon, German parcel service DHL is already on its way to making the idea a reality.
On Monday, DHL flew a small, unmanned aerial vehicle (UAV) from a pharmacy in the German town of Bonn, successfully carrying a 6.6 pound package of medicine across the Rhine river. Additional trials are scheduled throughout the week to test the company's drone technology.
Though it is tempting to envision a future where drones conveniently deliver our Seamless meals and online shopping orders, a DHL spokesperson said that for now, the company is focusing on "particularly urgent deliveries such as drug supply or deliveries via parcel copter to areas that are geographically difficult to access." The statement added that there were no current plans to introduce drones to the regular parcel service.
The background: The race to launch delivery drones is a tight one. While Amazon's Prime Air idea was unveiled with great fanfare, UPS announced last week that it too is jumping into the fray: "The commercial use of drones is an interesting technology and we'll continue to evaluate it," said a UPS spokesperson. And FedEx CEO Fred Smith has made no secret of his interest in the technology — for years, he has even suggested replacing the entire FedEx fleet with UAVs.
Of course, this is all dependent on whether or not the Federal Aviation Administration (FAA) legalizes these UAVs, and what kind of regulations it will impose. The FAA is not scheduled to weigh in on commercial drones until 2015, but many are skeptical that the agency can handle all the potential security concerns and remove the bureaucratic red tape by then.
The takeaway: Still, government support is crucial for these private companies to further develop their technology. While the German aviation authorities are allowing DHL to conduct its trial runs, American companies are not given the same support by the government: In a rather disconcerting report, the Washington Post revealed that Amazon's video announcement of Prime Air — which features a UAV prototype delivering a package under 30 minutes — was not even allowed to be shot in the U.S.
To be fair, the FAA has been granting drone licenses on a case-by-case basis, mostly to universities, research programs, and other government agencies. But if American companies are to compete with the international UAV market, the FAA needs to step up and allow these companies to freely conduct their research — and soon.