Bill Clinton Just Said What Everyone in America Was Thinking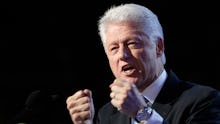 The news: Speaking to Brazilian local daily O Globo on Monday during a trip to that country, former President Bill Clinton said the United States' security is not increased by National Security Agency (NSA) espionage on allies.
Leaked documents by former NSA contractor Edward Snowden showed that NSA officers had spied on industrial and diplomatic targets in allied countries. In Brazil's case, that included state petrochemical company Petrobas and even Brazilian President Dilma Roussef.
"We shouldn't have gathered economic intelligence under the guise of security – not with an ally," Clinton told the paper.
He also said that in the United States, the government only collects widespread data to find patterns and that the information contained within specific calls requires a court order.
Clinton has previously claimed to have "serious reservations" about the idea of spying on the leaders of foreign countries, saying that such actions could have very undesirable consequences. Earlier this year, for example, a furious German Chancellor Angela Merkel called Barack Obama to demand clarification on whether the NSA had tapped her phone to collect diplomatic data.
The background: Clinton is putting on two hats here: He's playing some serious damage control for the U.S. in Latin America after the Snowden leak aired a lot of dirty laundry, and as a free bonus, he's helping position his wife and former Secretary of State Hillary Clinton as a responsible foreign policy leader for her all-but-certain presidential run in 2016.
In September, President Roussef launched a "blistering" attack on NSA spying at the United Nations, saying that "Personal data of citizens was intercepted indiscriminately. Corporate information – often of high economic and even strategic value – was at the centre of espionage activity."
"Also, Brazilian diplomatic missions, among them the permanent mission to the UN and the office of the president of the republic itself, had their communications intercepted."
"Tampering in such a manner in the affairs of other countries is a breach of international law and is an affront of the principles that must guide the relations among them, especially among friendly nations."
"... This is unacceptable."
While a sitting president could never publicly address such allegations directly, Clinton can temper the anger of the Brazilian president by criticizing the NSA's actions and letting her know prominent U.S. politicians found such spying unacceptable. He's also charting a course for candidate Hillary to navigate difficult international waters as the 2016 elections loom closer. Both Clintons probably aptly realize resolving the crisis unleashed by the NSA and Snowden will require some serious committment to transparency and reassuring allies that history won't repeat itself.
That same day, the Clinton Global Initiative tweeted a photo of Clinton and Roussef together. He looks pretty happy.