If You Can't Stand Hipsters, These 11 Cities Are For You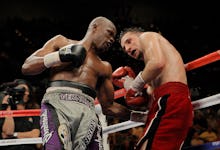 Americans have historically placed a high value on toughness. However, with the recent decline of the American manufacturing industry and increasing college enrollment rates, more Americans find themselves stuck in cubicles than they did 3 or 4 decades ago.
America's shift to a more knowledge based economy has brought about serious social and cultural changes to certain regions of the country. Many local watering holes, boxing gyms, and pool halls have been shuttered and or demolished to make way for fancy new coffee shops, yoga studios, and designer cupcake bakeries (yes these actually exist). However, not all of America is covered with sprinkles and hipsters.
I decided to prove it. This list ranks cities based on (1) the number of 1st round NFL draft picks, boxing champs, and Medal of Honor and distinguished service medal recipients they have produced over the last 25 years compared with their average population over that time, (2) 2012 violent crime rates, and (3) the percentage of 2012 workers employed in protective service, farming, fishing, and forestry, and construction and extraction occupation categories as defined by the US Bureau of Labor Statistics. (Yes, I dig data.) I gave each city a score based on its standard deviation from mean values for each of the three categories. 3.333 is the maximum score a city can receive for each category with 10 being the highest possible total score. I then averaged the categories to come up with one score for each city. A little confused? Don't be. Here are the toughest cities in America, ranked one through eleven. Where you at?
1. Pensacola, FL - 7.2 out of 10
With barely over 50,000 residents, Pensacola has produced a surprisingly high number of accomplished athletes, such as former world champion light heavyweight Roy Jones Jr. This is combination with a strong construction industry catapulted this historic city to the top of the list despite a relatively low violent crime rate compared with its competitors. 
2. Miami, FL - 6.7 out of 10
Miami has long been a hotbed for world class athletes, causing some to jokingly wonder if there is some kind of performance boosting substance in the city's water system. Miami's notorious history as a major distribution center for international drug cartels has long kept it on the list of the most dangerous cities in America. 
3. Memphis, TN - 6.1 out of 10
Anyone familiar with the  Oscar award winning hip-hop group the Three 6 Mafia's music may be well aware of how violent and dangerous a place Memphis can be. It has also produced about the same number of athletes as smaller Pensacola, and had the highest percentage of farm laborers of any of its competitors. 
4. Detroit, MI - 6.1 out of 10
Once the 4th largest city in the country, Detroit has fallen on hard times recently. There are much fewer manufacturing blue collar jobs nowadays which might contribute to it having the highest violent crime rate in the nation. 
5. Washington, D.C. - 6.1 out of 10
The nation's capital has produced an impressive list of athletes. The city has recently undergone significant demographic shifts changing the makeup and character of many historic neighborhoods. Although things have improved since the heyday of the 80's and 90's crack trade, D.C. still ranks highly lists of America's most dangerous cities. 
6. Mobile, AL - 6.1 out of 10
The sleepy port town of Mobile doesn't raise many eyebrows with its crime statistics, but it has produced an impressive number of professional athletes for such a small city. The construction industry also holds a higher share of employment here than any other city on this list.
7. New Orleans, La - 6.1 out of 10
New Orleans has produced two 1st round quarterbacks with the last name Manning in the last 15 years, and with parts of the city sill in need of repair after Hurricane Katrina, a relativity large proportion of residents are in the construction industry. 
8. Cleveland, OH - 5.7 out of 10
Cleveland has produced a number of NFL players, many who first attend the regional power house Ohio State University. The effects of disappearing manufacturing work has been felt throughout Ohio for decades, possibly contributing to increased instances of violent crime in northeast Ohio. 
9. Atlanta, GA - 5.6 out of 10
Long considered the capital of the south, this sports crazy region of the country has produced a number of world champions and hall of fame players in the last 25 years. Ironically, former world champion Vernon Forrest was murdered close to his hometown of Augusta, one of many gunshot victims in a city with one of the nation's highest violent crime rates.
10. Baltimore, MD - 5.6 out of 10
The 2nd of 3 cities rounding out the bottom of the list, Baltimore's reputation as one of the nation's most dangerous cities has been firmly cemented by David Simon's realistic portrayal of inner city poverty in his critically acclaimed television drama. Baltimore also has a rich history of producing top notch athletes. 
11. Tulsa, OK - 5.556
Tulsa has produced about the same number of professional athletes as its larger neighbor Oklahoma City. This in combination with strong blue collar employment was enough to sneak Tulsa on the list.