Yahoo Wants to Buy One Of the Biggest Sites On the Internet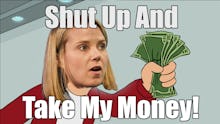 The news: According to a Tuesday article by Business Insider, Yahoo is considering purchasing the popular image-sharing site, Imgur.
The report comes on the heels of dozens of acquisitions by Yahoo over the past year, including the high-profile, $1.1 billion purchase of Tumblr this spring. The purchases mark Yahoo's attempt to return to the forefront of online communication, take advantage of Google's floundering promotion of Google+, and appeal to, you know, the kids.
Source: Imgur
The background: Imgur was, like Facebook and Snapchat, founded by a college student in his spare time. However, unlike Facebook and Snapchat, Imgur came from a state school in the middle of the country, and wasn't plagued by the kinds of hubris and betrayal that can drive a feature-length Hollywood film. More astonishingly, unlike Instagram, Pinterest, and just about every other startup, Imgur hasn't required any venture capital funding.
In 2009, Alan Schaaf, then an Ohio University junior, built an elegant site to enable image sharing for the Reddit community — or, in his words, "an image hosting service that doesn't suck." As Schaaf added additional functionality to the site, including a gallery, voting, and commenting, Imgur quickly outpaced competitors like Photobucket and ImageShack, and grew a community and in-jokes of its own.
Imgur has since outgrown the site it was founded to support, fostering a huge community of "Imgurians." According to Business Insider, Imgur "crossed the 100 million user mark in September. That's bigger than Reddit's audience of 85 million, and up from 30 million at the beginning of 2012." The site currently receives 4.3 billion-with-a-b monthly page views, and supports itself through ads, sponsored content, and subscription accounts, even though it's operated by a staff of just 11 people. Take that, mobile-only apps.
Source: Imgur
The takeaway: Yahoo CEO Marissa Mayer formed a hosting partnership with Imgur in the spring, and has made multiple visits to the photo sharing company this fall, pointing toward a growing relationship between the two companies. However, Imgur has been wary of outside investment and influence from the start (Schaff's first offer, from ImageShack, came just six months after the site was founded), and has clearly excelled without outside funding and influence. As such, despite the fact that Yahoo already owns image sites Flickr and Tumblr, it may have more to gain from the deal than do Imgur and Imgur's dedicated community.