This is TIME's Person Of the Year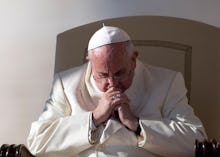 Every time someone posts a story on Facebook about Pope Francis, there's always a comment underneath reading something to the effect of, "Wow, I'm really liking this guy."
There was the time Pope Francis traded in the Vatican's fancy Mercedes for this 1984 Renault 4, donated for free by a priest in northern Italy who used it to visit poor parishioners:
There was the time the pope kissed this disfigured man, which went absolutely viral on social media:
He told Germany's "Bishop of Bling" to get rid of his $42 million mansion, and focus on the Church's values of charity and love:
There was that time the pope said some things about trickle down economics which we've all probably thought at one point or another: 
After all of this, after less than a year in papal office, Pope Francis is now TIME's Person of the Year: 
TIME says about the pick: "Rarely has a new player on the world stage captured so much attention so quickly — young and old, faithful and cynical — as has Pope Francis."
TIME adds: "At a time when the limits of leadership are being tested in so many places, along comes a man with no army or weapons, no kingdom beyond a tight fist of land in the middle of Rome but with the immense wealth and weight of history behind him, to throw down a challenge. The world is getting smaller; individual voices are getting louder; technology is turning virtue viral, so his pulpit is visible to the ends of the earth."
And they have a point. Pope Francis has redefined his position as leader of the Catholic Church. In only a couple of months he has proven to be a modern pope, with a new and appealing world vision that people can't help but be awed about.  
Is it too early to tell what kind of real difference he'll make in the world? Sure. But he has had a stellar year, and makes a pretty darn good pick.