8 Powerful Photos Shine Light On the People Most New Yorkers Never See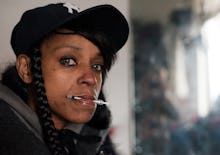 Chris Arnade, 48, quit his 20-year gig as a Wall Street banker to explore the streets of the South Bronx at night and photograph prostitutes and drug addicts. Just a short distance from Wall Street, the South Bronx is the poorest congressional district in the country, with about 35% of its people living below the poverty line. 
PolicyMic interviewed Arnade about his journey, inspiration, and work. Here are eight of the stunning portraits he's taken from Hunts Point, South Bronx, with his captions beneath. 
"Chris Bishop was drinking in front of a liquor store when we met. A resident in the local homeless shelter, he told me the following: At the age of 13, Chris killed his father, stabbing him with a knife after a childhood of abuse. He spent the next 18 years in correctional facilities. 'When he was drunk and mad he would hold me out the apartment window and threaten to drop me to the street, eight floors below. He beat me and my mother all the time. I have been drinking ever since. To forget.' When I asked how he wanted to be described, his eyes teared up and he said, 'I am human, like everyone else.'"
"Vanessa, 35, had three children with an abusive husband. She 'lost her mind, started doing heroin,' after losing the children, who were taken away and given to her mother. The drugs led to homelessness and prostitution. She grew up on Arthur Avenue in the Bronx, but now spends her time in Hunts Point, 'trying to survive every day. Just doing whatever it takes.' She was standing on the cold street corner looking for business, wearing only flip flops and smoking with her two friends. When I asked her how she wanted to be described, Mary Alice jumped in and said, 'She's the sweetest woman I know. She will give you the shirt off her back, if she has one on.'"
"Beauty, 21, was born and raised in Oklahoma, and was brought to New York City by a pimp who promised her she could 'make some mad money.' She has since had nine pimps. 'I have been through nine nigg*s. Got my first black eye from one, another punched me in mouth, but this guy is good to me.' Her mother was an addict. 'She started using crack. That's when it all started, the walls started coming in on me. Now she is incarcerated. I can't blame my mom, she's my mom. I smoke weed, but not crack. I don't like that peppermint burning smell. I want to get out of this stuff, but I am scared. I guess I could stop at any time. Some of the guys tell me I could be a model. Money wise it's good, but otherwise, fuck Hunts Point. Maybe I can become an RN, or go into childcare.' When I asked her how she wanted to be described, she said, 'I'm a good person. I don't like to see anyone down. I like to make people happy.'"
"I call him Luis, but I am not sure. Luis is unable to do more than mutter a few words, often breaking down in tears. He refuses to go to the local shelter or methadone clinic, sleeping instead in various spots, spending his waking hours bumming cigarettes and panhandling in front of bodegas. I worry that my pictures put a happy face on addiction. Photos cannot capture the pain, suffering, and destruction wrought by heroin, crack or in this case, whiskey. Sometimes it requires smoking a cigarette with a sobbing incoherent drunk to truly remind you what loneliness and addiction can do."
"The 'brickyard' is a vacant lot on an otherwise industrial side street in Hunts Point. It's where many of the local addicts spend their time, gossiping and smoking. They bring their carts filled with what they can collect to sell to the adjacent scrap metal shops. It's where I found Clarence, who has lived for 40 years in Hunts Point since moving from North Carolina as a teenager. I spoke with Clarence, a former truck driver, for a long time. He told me all that his addiction has wrought: job loss, homelessness, health problems. Never once did he sound angry, bitter, or depressed."
"Sonya lives on the top floor of an abandoned building with her husband of ten years Eric. They left Rhode Island in pursuit of drugs, settling in Hunts Point five years ago. Eric said, 'This is the only reason me and Sonya are in Hunts Point, because this is literally right now the best heroin in all of New York City.' Sonya left her husband and family after being turned on to heroin by Eric. 'I wasn't addicted to drugs until my 30s. Before then, I was a normal person, meaning I wasn't a fucking junkie. I lived in Rhode Island and had a family. I was a soccer mom. I always kind of knew I was a heroin addict. I always knew not to fuck with heroin. I always knew it was the drug for me. It just makes you feel good. And when you're feeling bad, having a magic button is kind of a great thing. Unfortunately the magic button is also a stupid button because it comes with a lot of consequences. I am happier in some ways than I've ever been in my life. But I've lost so many things. I want to get out of my addiction but in some ways it's made me grow a lot. And I think I know now how to live more than I ever have.'"
"Supreme saw me taking pictures and asked to be photographed with his dog Obama (yes, Obama). I asked him why he was giving the camera the finger, he said, 'Thats for people judging who I am.' I said, 'Who are you?' He said, 'A doped up junkie.' I told him I post the pictures online and write a short description. He said, 'I ain't mind people knowing what I do or who I am. Its me.' Supreme and I chatted awhile more; despite the finger he was happy to talk."
"Egypt, 38 and homeless, was 14 when her mother, an addict and prostitute, put her out on the streets. She has been working the streets, in the Bronx, addicted to heroin and crack, much of the time since. While telling me her story, she started crying. She was high, having just shot crack. 'Mix it with lemon juice. If you do it with water you will be fucked up. Abscess, dead.' She noticed a beat up alley cat wandering. 'That cat's how I feel. I really do. I didn't come out here to fucking cry. See, that cat needs a hug. I get that. He wants somebody to love him. Saying, 'Don't touch that,' is like saying not to touch me." I apologized for making her cry. She said, 'I didn't cry. There's no time for crying out here. If you cry, you're a pussy, and you can't let them do that to you. You can't let them see you cry. You can't show your weakness. I'm a cancer. You scrape us off and we come right back. But we're curable. It's only as hard as you make it. If you think you can change, if you know you can change, you can. If you set your mind to something, that's what's going to happen. You have to want it. You can't have someone else want it for you.'"