The Scary Way Godzilla Has Evolved Through the Years — In One Chart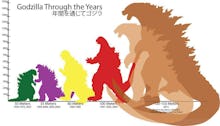 According to this chart, the 2014 version of Godzilla will have an estimated height of 120-150 meters; as much as three times Godzilla's original height of 50 meters, 60 years ago.
Why this look at Godzilla now? Well Godzilla, one of the most famous movie monsters of all time, is returning to theaters next year and the first full trailer finally emerged Tuesday. Godzilla is back and bigger than ever — literally.
This iteration of Godzilla is directed by Gareth Edwards, who was the man behind the solid low-budget Monsters back in 2010. While he created all the visual effects for that movie himself, he has a much larger toolbox to play with this time around. And money talks, or in this case, money walks and destroys cities. 
Of course, Godzilla's larger size is also symptomatic of changing skylines. As time has passed, buildings have grown ever taller too. If Godzilla had stayed the same height throughout its entire existence, it would be much less imposing on a modern cityscape. If blockbusters are all about the spectacular, a Godzilla dwarfed by steel and concrete constructs would make a far less evocative image in a disaster flick.
Godzilla, which stars Aaron Taylor-Johnson, Elizabeth Olsen, and Breaking Bad's Bryan Cranston, will be released on May 16. The trailer gives a sense of the movie's tone, if not much detail on the plot. The skydiving opening is a great way to catch a glimpse at the scale of the monster, but we need to keep an eye out for future trailers to get much more about the movie itself.