Disturbing Video Shows Why Animal Rights Activists Are Coming Together This Holiday Season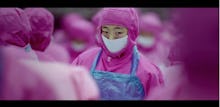 The holiday season is upon us, which means Americans will spend time over-spending, over-drinking, and of course, over-eating.
For some perspective, consider this: There are approximately 248.5 million turkeys raised worldwide, and of these, 219 million are consumed in the United States. That's almost 90%. Of those, about 46 million are eaten on Thanksgiving, and 22 million are eaten on Christmas. But while we all rejoice over good food and fun, there's a darker side to the story which isn't typically talked about: animal rights, and specifically, the way animals are treated before we consume them.
How bad is the problem? This shocking video reveals the very disturbing treatment of animals and Americans' unhealthy consumption patterns. It's a clip from the documentary Samsara, directed by Ron Fricke, which will surely make you think twice before indulging this year.
Are you as disturbed by this video as I am? Will you be thinking about ways to reduce your consumption this holiday season? Let me know on Twitter and Facebook.