20 Wild Photos Of the Protester vs. Police Battle That Happened In Ukraine Yesterday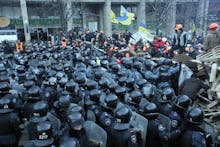 Thousands of pro-Western protesters have been camped out in Kiev, Ukraine's Independence Square for days, furious at pro-Russian President Viktor Yanukovych's refusal to sign a document that would build stronger ties with the European Union and perhaps act as a precursor to EU membership.
The protestors want Yanukovych to dismiss the current government, which presided over a devastating economic paralysis; create a new government which will sign an agreement with the EU; release all arrested demonstrators; and create legal actions against policemen who cracked down on the protests.
On Tuesday, riot police moved in to dismantle barricades assembled by protesters after a government official apparently read a declaration informing them that their assembly was illegal. Orange helmet-clad protesters fought back and were reconstructing the barriers by Wednesday afternoon. In a win for the demonstrators, government officials later sought to claim that no effort to remove the protesters was being made. Riot police withdrew.
The withdrawal of riot police from two areas in Ukraine's capital is raising opposition hopes that three weeks of escalating protests have begun to erode police support for President Viktor Yanukovych and his government.
U.S. Secretary of State John Kerry condemned the crackdown in a blistering condemnation of Yanukovych's government, saying: "The United States expresses its disgust with the decision of Ukrainian authorities to meet the peaceful protest in Kyiv's Maidan Square with riot police, bulldozers, and batons, rather than with respect for democratic rights and human dignity. This response is neither acceptable nor does it befit a democracy."
The protests are Ukraine's largest since the Orange Revolution in 2004, when Yanukovych's Russian-allied government was forced out following a fradulent election. A pro-Western party then took over the government. Yanukovych narrowly returned to power in 2010, defeating prominent Orange Revolution leader Yulia Tymoshenko, who was then imprisoned on charges that she had abused her office.
Here's how yesterday's battle unfolded.
1.
2.
3.
4.
5.
6.
7.
8.
9.
10.
11.
12.
13.
14.
15.
16.
17.
18.
19.
20.