LGBT Activists Are Rising Up to Take Down India's Reinstated Ban on Gay Sex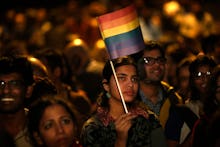 On Tuesday, the Indian Supreme Court restored a ban on gay sex. The court reversed a 2009 decision where a Delhi High Court struck down struck down a law from 1861. The colonial-era law forbids "carnal intercourse against the order of nature with man, woman or animal." 
The law, under Section 377 of the Indian Penal Code, punishes offenders with a fine, jail time of up to 10 years, and in some cases life imprisonment. 
The law has sent shockwaves through India's LGBT commmunity, and for good reasons. Back in 2009, Sunil Mehra wrote for the BBC about what it was like to be a gay man when the ban was enforced:
The man I picked up proceeded to rob me in my own house: robbed me of my shoes, my money and left only after I wrote him a check for yet more money. I was up all night. Fretting. Pacing. Dying. And being reborn."Come morning and I had made my decision. I hit the bank opening time and instructed the authorities to stop payment on the cheque. The decoy - policemen often set up decoys sending gigolos to meet gay men in India- brazenly stormed right back into my house after being turned down at the bank. I was ready for him. With fisticuffs. And a new found resolve to NEVER be afraid again. The law was not on my side. But from then on I was.
Tuesday's move is a major setback for the world's largest democracy as it will enable the jailing and harassment of India's LGBT community. 
"This decision is a body blow to people's rights to equality, privacy and dignity," said G Ananthapadmanabhan, chief executive of Amnesty International India
Many Indians have taken to social media to protest the move, by tweeting to #Sec377. The move has especially caused an uproar among Indian celebrities, and many famous Indians have shared their outrage on Twitter.
Karan Johar, an award-winning director and producer of India's largest grossing movies:
Aamir Khan, an award-winning film actor and producer:
Barkha Dut, an award-winning television journalist and columnist:
Even Tanishq, a prominent Indian jewelry brand protested the ruling:
Some activists also took to the streets to protest the decision on Wednesday. 
LGBT rights activists who called Tuesday a "black day" won't be backing down. The Naz Foundation and other groups are preparing to fight the ruling.