Top Baby Names Of 2013 Are TV/ Movie-Themed. That Sucks For These Kids.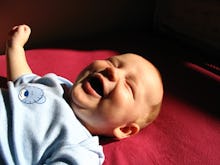 BabyCenter.com, a pregnancy and parenting advice site, has released its list of top baby names for 2013, as well as a list of the most unusual names it recorded this year. The lists reveal a number of trends, from the tendency for antiquated names to make a comeback (a pattern that's referred to as the 100-year rule), to the role of assonance in name choices (Hello Zoe, Chloe, Aiden, and Jayden!), to the pop culture influences that, for better or worse, some children will be coping with for the remainder of their lives.
Here are the top 10 names for girls:
1. Sophia
2. Emma
3. Olivia
4. Isabella
5. Mia
6. Ava
7. Lily
8. Zoe
9. Emily
10. Chloe 
And the top 10 names for boys:
1. Jackson
2. Aiden
3. Liam
4. Lucas
5. Noah
6. Mason
7. Jayden
8. Ethan
9. Jacob
10. Jack
The full list of names can be found here. 
It's clear that some names have come back into vogue after decades of sounding too old for a young child. A generation ago, Sophia would have been associated with mid-century Italian actress Sophia Loren or Estelle Getty's Golden Girls character. Today, it brings to mind stunning Modern Family star Sofia Vergara. Other celebrity homophones dot the top 10, from the Jaiden Smith-like Jayden, to the Zooey Deschanel-like Zoe.
Even fictional characters have made an impression. The girl's name Aria, coming in at No. 27, probably has less to do with opera solos, and more to do with Arya, the popular character from HBO's Game of Thrones — especially since the name became popular after the show's first season in 2011. Babies called Jacob, the ninth most popular boys name, may have their mother or father's love of the Twilight saga to thank.
We should, of course, take a moment to pity not just the Brooklyns who live nowhere near the hip borough, but the other unfortunate children subject to the whims of their guardians. The Yolos and Swags and Bros of future generations deserve both our sympathy and help. Especially since multiple studies have shown that, unfortunately, a name's cultural associations make for real-world repercussions.
What do you think of the names on the lists? Are there any names you would have have preferred to see at the top? Let us know in the comments, after you check out this animated map from Jezebel that shows how top baby names for girls have changed over time.