Revenge Porn Site Owner Arrested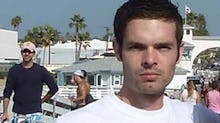 The news: 27-year-old "revenge porn" site owner Kevin Bollaert has been arrested in California on 31 charges of conspiracy, identity theft, and extortion. Bollaert is accused of running UGotPosted.com (not linked here), a site that posted intimate photos of women against their will with links to their social media accounts, places of work, and other personal information. The information was typically provided by jilted lovers and internet trolls who broke into personal accounts to steal data. Prosecutors say that Bollaert then extorted the women on the site, threatening to leave the photos up unless they gave him large amounts of money.
"This website published intimate photos of unsuspecting victims and turned their public humiliation and betrayal into a commodity with the potential to devastate lives," said California Attorney General Kamala Harris. "Online predators that profit from the extortion of private photos will be investigated and prosecuted for this reprehensible and illegal internet activity."
The authorities say Bollaert also ran changemyreputation.com, a website that offered a service to remove posts from UGotPosted for $300. In addition to the roughly $900 a month Bollaert made directly from advertising running on UGotPosted, the accused's PayPal account appears to have received tens of thousands of dollars in payments from women seeking to have their stolen photos removed from the site.
The criminal complaint and arrest warrant for Bollaert lists 14 victims and list receipts from the secondary site. UGotPosted has posted approximately 10,000 photos, all arranged by geographic location of the person pictured.
The background: It's about time someone's cracked down on extortionate sickos like Bollaert. Another revenge porn site, Hunter Moore's IsAnyoneUp.com, was previously taken down under a Digital Millennium Copyright Act (DMCA) order, but Moore never faced charges (although Moore was a notorious cyberbully who egged kids on to suicide via social media, he didn't extort his victims in the same way Bollaert did). Authorities lacked the legal tools to go after revenge porn site operators, until California posted a law that made posting explicit images of someone without his/her permission an offense punishable by six months in prison in October.
Heavy.com listed five things you should know about Bollaert before reaching a conclusion on his trial, including that users couldn't submit photos without providing personal details of the women pictured. From the California attorney general:
California Penal Code sections 530.5 and 653m (b) make it illegal to willfully obtain someone's personal identifying information, including name, age and address, for any unlawful purpose, including with the intent to annoy or harass.
Heavy also notes that the prosecution has been building its case for three months. With the evidence clear for everyone to see, it looks like the attorney general has built a solid argument that Bollaert should be locked away.
Bollaert is currently being held on $30,000 bail.