Watch the Golden Globe Nominations Announced Live Thursday Morning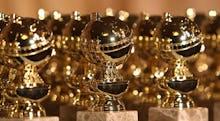 We can officially say that awards season is here. On Thursday morning, Aziz Ansari, Zoe Saldana and Olivia Wilde (along with Miss Golden Globe Sosie Bacon, yes, the child of Kevin) will announce the 71st annual nominees. From the list of announcers, it's already safe to say that the Golden Globes are heavily targetting our generation. Throw in the fact that the show will be hosted (for a second time) by Amy Poehler and Tina Fey, and any lingering millennial-targetting doubts can just float off into the distance.  
The Golden Globes honor both television and film and the list of honorees is a consistent who's who of the past year in the business. For 20-somethings in Hollywood, this year could include some very big names. Jennifer Lawrence (no introduction needed) is a strong contender for a supporting actress nomination for American Hustle. Newcomer Lupita Nyong'o, who plays Patty in 12 Years a Slave, is another near certain nominee. While Michael B. Jordan is a bit of a long shot for best actor for his role in Fruitvale Station, he is certainly a legitimate contender. Other possible millennial nominees in the film category include Barkhad Abdi (Captain Phillips), Jonah Hill (The Wolf of Wall Street), and James Franco (Spring Breakers). 
In the television categories you can expect Lena Dunham (Girls), and a possible nomination for Lizzy Capplan in Masters of Sex. Also, if the gods are smiling down on me, Hayden Panettiere will be nominated for Nashville. 
For early rising East Coasters, and very early rising West Coasters, the nominations can be streamed live online beginning at 8:15 a.m. EST (5:15 a.m. PT).