Golden Globe Nominations 2014: The Full List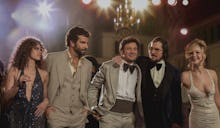 We officially have our Golden Globe nominees. On Thursday morning, bright and early, Aziz Ansari, Zoe Saldana, and Olivia Wilde announced the nominations for the 71st annual Golden Globes. In Globes style, there were a few surprises including a heavy smattering of nominations for Brooklyn Nine-Nine, and a best picture nod for Rush, and even a nominee from the TV show Parenthood. 
American Hustle and 12 Years a Slave led the film nominations pack with seven nods each. On the TV side, House of Cards and Behind the Candelabra were the biggest nominees, each receiving four.
And as anticipated, our generation did us proud with acting nominations for Lena Dunham, Jennifer Lawrence, and Lupita Nyong'o. See the full list of nominees below.
Best Picture, Comedy/Musical:
Best Picture, Drama:
Best Actress, Comedy:
Best Actor, Comedy:
Best Actress, Drama:
Best Actor, Drama:
Best Director:
Best Supporting Actress:
Best Supporting Actor: 
TV Series, Drama:
TV Series, Comedy:
TV Actress, Comedy:
TV Actress, Drama:
TV Actor, Drama:
TV Actor, Comedy
Best Mini-series or TV Movie
Best Actor in a TV Mini-Series or Movie
Best Screenplay
Best Foreign Language Film
Best Supporting Actress in a Series, Mini-Series, or TV Movie
Best Supporting Actor in a Series, Mini-Series or TV Movie
Best Animated Feature
Best Original Score
Best Original Song