Surprisingly, Germany is No Longer the World's Leader in Solar Power Installations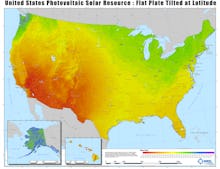 The news: After a record-breaking third quarter of 2013 for solar installation, the United States is poised to become the world leader in solar power installations by the end of the year.
A total of 930 megawatts of photovoltaic solar capacity (the process through which sunlight is converted into electricity) was installed in the U.S. during the third quarter, up 35% since this time last year. The surge included a substantial increase in residential installations that, while still a small share of total solar installations in the U.S., are the fasting growing sector for the solar industry. Approximately 31,000 American homes installed solar panels in the third quarter alone, the most ever. 
The backstory: The 930 megawatts of installation in the third quarter of 2013 mark the second highest quarterly total in U.S. history. This past quarter is behind only the fourth quarter of 2012, which saw 1,311 megawatts of solar capacity installed.
The Solar Energy Industries Association predicts a continued increase in solar power installations, which according to their projections would make the U.S. the world leader in solar power, overtaking Germany for the first time in over 15 years.
Source: Green Tech Media
Installations have increased roughly 20% this year, and 30% growth is predicted for 2014.
Why this matters: Solar energy continues to be a booming industry. According to Shayle Kann, Vice President of Research at Green Tech Media, "Solar is the second-largest source of new electricity capacity in the U.S. this year, trailing only natural gas." SEIA President Rhone Resch said the U.S. has "now joined Germany, China, and Japan as worldwide leaders when it comes to the installation of new solar capacity."  
While Germany's solar industry has plateaued because of reduced government subsidies in Europe, U.S. states like California, Arizona, Massachusetts, and Nevada offer incentives for new solar installations. Of course, solar power works better in some parts of the country than others.
With the U.S. projected to be the world's largest oil producer in the next few years, it's reassuring to know we're also increasing production on alternative energies. Perhaps it won't be too long before the U.S. sees oil production in decline while solar and other renewables continue to rise.