These Shoppers Came For Groceries, Got a Breathtaking Mandela Tribute Flash Mob Instead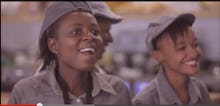 There are tributes to Nelson Mandela, and then there's this incredible flash mob. 
In this touching video, members of the Soweto Gospel Choir surprise shoppers at a South African grocery store with one of the most moving tributes to Nelson Mandela we've seen yet. Woolworths, a South African chain, teamed up with members of the choir to perform a beautiful rendition of the song "Asimbonanga" (we have not seen him).
The song was written by Johnny Clegg for Mandela while he was in prison, and calls for Mandela's freedom. Clegg himself faced arrest for the powerful song.
Watch here:
Here are the lyrics:
Asimbonanga [we have not seen him]
Asimbonanga
Forget about selfies. This is truly the most beautiful tribute I've seen to Mandela's life. I couldn't get through this without my eyes welling up. What did you think? Let me know on Twitter and Facebook.