Why India's Gay Sex Ban Can't Put Gays Back in the Closet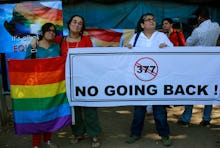 On Wednesday, India's Supreme Court ruled to reinstate the archaic section of the Indian Penal Code that criminalized gay sex.
Seriously, India? I mean really. Aren't we beyond that at this point?
Last time around, this law was mostly used to intimidate rather than prosecute, but with the new reinstatement, the crime bureau has now said it really will be going after folks, and the punishment could be as much as ten years in prison —which is why people are pretty upset.
Here's the thing, though: there's no way the queer community is going to take this sitting down. It's far too late for that, and it's not just because of gay activists. ICYMI, here's what's been going on:
Back in 2012, the queer community in Bangalore, India, was just starting to come out of the closet. Three years after the Supreme Court ruled that sodomy was no longer "carnal intercourse against the order of nature," people were coming out to their friends, maybe even their parents or their coworkers. Some people even stopped hiding their identity at Pride events. It was an exciting time. There were photo exhibits, plays, independent films, queer theory that was specific to India's culture. And by 2013, things had gotten even more exciting: there was a whole radio station devoted to queer culture. It was an explosion of human rights, a whole subculture exploring what it meant to be recognized.
So leaders in the movement are making a crucial distinction: this law, Section 377, criminalizes a few select sex acts, but it doesn't criminalize an identity. This means that activists are free to continue fighting for their rights: as long as there is no proof that they're sexually active, they've done nothing wrong.
And besides, those fighting for their rights aren't doing so alone: Union Finance Minister P. Chidambaram has suggested that every police station be contacted and individual officers urged not to bother gay folks doing their thing. And that is not even mentioning the support from celebrities including Bollywood's hunkiest superstar Aamir Khan, who has made it clear that he opposes Section 377 as well. The United Nations also opposes Section 377, and has since the first repeal effort in 2008 and 2009. Gay Indians even have health on their side: criminalizing homosexual sex makes it very hard to prevent the spread of HIV/AIDS, so international health organizations won't be keeping silent on this for long. 
The Supreme Court's decision has also been a rallying point for other issues in the queer community. Although the caste system has been illegal since 1955, caste-based thinking still informs a lot of social interaction in India. Dalits (formerly called untouchables) and hijras (a traditional Indian gender that Westerners can compare to transgender women) have used Wednesday's decision to point out that they have been facing much harsher conditions for years and the mainstream gay and lesbian community hasn't done anything for them.
It's true: many low-caste Indians, especially of gender and sexual minorities, barely have the resources to survive, let alone fight for their right to self-expression. 
Repealing Section 377 — for the second time — won't solve all of Indian queers' problems and it might take some time before this colonial piece of legislation is gone for good. But while the government can make it legal to prosecute based on sexuality, they can never undo the four years of momentum propelling India's gay movement.