This Politician Honored Mandela With a Terribly Photoshopped Picture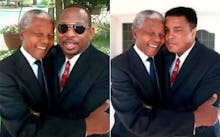 Shortly after Nelson Mandela's death last week, politicians from across the globe made their tributes to the anti-apartheid hero.
But none did it like Mike Sonko, a Kenyan senator, who decided to post a photoshopped picture of himself hugging the former South African president on his personal Facebook page:
Facebook users were quick to point out the botched Photoshop job. To make matters more embarrassing, the picture shows Sonko's head pasted over that of none other than legendary boxer Muhammad Ali. 
Ouch.
Next time, the eccentric politician should maybe stick to inspirational quotes when someone passes away. Or, you know, a real picture.