Did 'Saturday Night Live' Hold Super Secret Auditions for Black Women?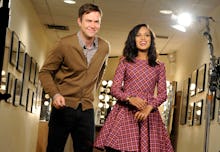 Admist the recent backlash regarding the lack of black female comedians on Saturday Night Live, reports have surfaced that executive producer Lorne Michaels might actually be doing something about it. According to an interview between Jasmine Brand and actress Bresha Webb, a secret round of auditions was recently held specifically for black women.
Photo via The Jasmine Brand
In the interview, which was also posted in Clutch Magazine, Webb detailed her experience with what she claimed was an audition for SNL. "We all entered the Groundlings theater backstage having no idea what to expect," Brand said. "I had no clue who was a part of the showcase. Of course my Comedienne friends were there ... And some talented ladies in sketch comedy were there that I had never met. We were all very supportive of each other and there was no sense of competition or pettiness. We were just happy that some new black women in comedy were being considered and given a shot."
Photo via The Jasmine Brand
When the 39th season of Saturday Night Live premiered on Sept. 28, many viewers were dismayed to see that there were no black women among the six new cast members to join the show. This marked the sixth year in a row that SNL was devoid of a black female cast member. In the show's 38-year history, there have only been four black female cast members.
Long-time cast member Kenan Thompson added to the furor when he blamed the show's lack of diversity on a dearth of "ready" black comediennes. "It's just a tough part of the business," Thompson said in the recent interview with TVGuide.com. "Like in auditions, they just never find ones that are ready."
Of course, not everyone agrees with Thompson on the issue. In a interview this fall with The Grio, cast member Jay Pharoah said, "They need to pay attention ... Her name is Darmirra Brunson ... Why do I think she should be on the show? Because she's black first of all, and she's really talented. She's amazing. She needs to be on SNL."
SNL has yet to comment on Webb's story. SNL auditions typically are conducted in several stages over the summer. It's certainly possible, however, that the recent outrage made Lorne & Co. sweat and look to make more immediate change.