Every Viral YouTube Video of 2013 in 5 Epic Minutes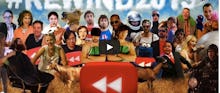 On Wednesday, the folks at YouTube Rewind released an epic 5-minute mashup of 2013's most viral YouTube sensations. Based on Ylvis' hit parody song, "The Fox," this mega-viral masterpiece is loaded to the brim with pop-culture references and features cameos by more than 60 YouTube celebrities.
YouTube Rewind also released a list of the top 10 viral videos of 2013:
1. Ylvis - "The Fox (What Does the Fox Say?)" by tvnorge
2. "Harlem Shake (original army edition)" by kennethaakonsen
3. "How Animals Eat Their Food" | MisterEpicMann by MisterEpicMann
4. "Miley Cyrus - Wrecking Ball (Chatroulette Version)" by SteveKardynal
5. "baby&me / the new evian film" by EvianBabies
6. Volvo Trucks - "The Epic Split feat. Van Damme" by VolvoTrucks
7. "YOLO (feat. Adam Levine & Kendrick Lamar)" by thelonelyisland
8. "Telekinetic Coffee Shop Surprise" by CarrieNYC
9. "THE NFL : A Bad Lip Reading" by BadLipReading
10. "Mozart vs. Skrillex. Epic Rap Battles of History Season 2" by ERB
As Dara Kerr at Cnet observes, this year's crop of trending YouTube videos are more slick and professional than those of previous years. Gone are the shaky-camera homemade cat videos and eccentric amateur recordings.
We're also starting to see a group of consistent hitmakers like the folks behind the Barely Political, Smosh, and Epic Rap Battles of History series, to name a few of my personal favorites.
Plus, with so many famous YouTube personalities all turning out to collaborate on one video, the internet is starting to feel like one over-sized, hilarious family. Now, if only I could get Ryan Higa and Kassem G to show up to my New Year's Eve party (dinner catered by Epic Meal Time)!