Beyoncé Just Released a Surprise Album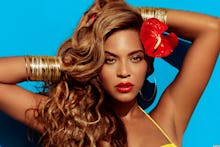 So remember back in July when Jay-Z released Magna Carta Holy Grail and gave away one million copies to Samsung users? It was marketing genius, and everyone celebrated, listened, and bowed down to him. Well, Beyoncé just one upped him. 
At midnight on December 13, Beyoncé released a self-titled "visual" album exclusively on iTunes with literally zero pre-marketing or fanfare. We can now add, "amazing at surprises" to the seemingly endless list of things about Beyoncé that make us feel inferior.  
The 14-track album is available on iTunes, but only in it's entirety (genius marketing again — if you like this record, then you'd better be willing to put a $15.99 ring on it). Individual songs won't be available until December 20 (sounds like a challenge to me, citizens of the internet). In addition to the music tracks, each song is accompanied by a video, making the album entirely visual. Because the only things other than music that Beyoncé excels at are brilliant visuals, superb dancing, and mass seduction of the American listening and viewing audience.
The album sounds more hip hop than soul — a departure from her more recent albums — and  includes a collaboration with Jay-Z called "Drunk In Love" (a "Crazy In Love" reference), as well as collaborations with Drake, Frank Ocean, and a whole slew of others. The album's final song is a slow-burning ballad, "Blue" that even features her daughter Blue Ivy. This track is up there with "Isn't She Lovely" for best parent-daughter performance.
In a press release issued shortly after the album Beyoncé addressed the album and its visual element:
"I see music. It's more than just what I hear. When I'm connected to something, I immediately see a visual or a series of images that are tied to a feeling or an emotion, a memory from my childhood, thoughts about life, my dreams or my fantasies. And they're all connected to the music ... I didn't want to release my music the way I've done it, I am bored with that. I feel like I am able to speak directly to my fans. There's so much that gets between the music, the artist and the fans. I felt like I didn't want anybody to give the message when my record is coming out. I just want this to come out when it's ready and from me to my fans."
Her sister Solange tweeted out what basically everyone else in the world was thinking: 
This is the fifth studio album for Beyoncé.