11 Stunning Photos Of the Historic Snow Storm Hitting the Middle East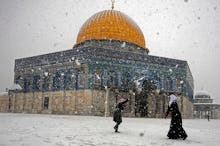 This morning, residents of Cairo woke up to something they haven't seen in 112 years — snow! As winter storm Alexa sweeps through the eastern Mediterranean, parts of the region are seeing colder weather than they have in years.
The storm was originally only expected to affect areas in Turkey, Syria, Lebanon, Jordan, Israel, and the Palestinian territories, but temperatures were floating around 41–52 degrees Fahrenheit in Cairo on Friday afternoon, and are expected to sink to around 36 degrees Fahrenheit on Friday night.
The cold snap also triggered what some are reporting as the first snowfall in the Cairo area in 112 years, although the Egyptian Meteorological Authority has denied this claim. Either way, it's quite the sight, and something that hasn't been seen in a long while.
Several other parts of the Mediterranean and Middle East have also seen surprising amounts of snowfall over the past few hours and days. Areas such as Gaza City, Beirut, Jerusalem, Hebron, Nablus, Bethlehem, Ramallah, Istanbul and Amman are all "enjoying" a light blanketing of snow.
1. New Cairo
This photo was posted on twitter around 4 a.m. (EST) by @AmrElGabry of a region called New Cairo, a relatively new satellite city about 20 miles outside of Cairo that mostly contains university campuses and luxury villas and condominiums.
2. Egypt's Sinai Peninsula
Snow has also been reported in Egypt's Sinai Peninsula, about 250 miles southeast of Cairo.
3. Istanbul
The Ottoman-era Sultanahmet Mosque, also known as the Blue Mosque, in Istanbul. 
4. Aleppo, Syria
Rebels fight Syrian pro-government forces in the Salahuddin neighborhood of Syria's city of Aleppo. 
5. Homs, Syria
The snow covered city of Homs.
6. Bekaa Valley, Lebanon
The Roman ruins of Baalbek, in eastern Lebanon's Bekaa Valley, are covered with snow. 
7. Baaloul, Lebanon
Young Syrian refugees in a camp build a snowman in the Lebanese village of Baaloul in the Bekaa Valley. 
8. Jerusalem
Young Palestinians throw snowballs in front of a snow-covered Dome of the Rock in Jerusalem.
9. Jerusalem
Orthodox Jews walk past the Damascus Gate in Jerusalem.
10. Jerusalem
Palestinian women play with snow outside Dome of the Rock in Jerusalem.
11. Bethlehem
Manger Square, with the Church of the Nativity in the background, in the West Bank town of Bethlehem.