Guy Who Stood Next to Obama Reportedly Faced Murder, Rape, Kidnapping Charges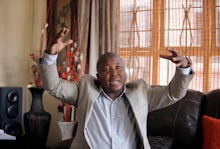 The news: Thamsanqa Jantjie, the infamous "fake" sign language interpreter at Nelson Mandela;s memorial service on Tuesday, seems to have had a very troubled past. In an exclusive report, South Africa's eNCA reveals that Jantjie has previously faced charges of murder, rape, and kidnapping.
"Investigations have found that Thamsanqa Jantjie, who is being treated for schizophrenia, has also faced rape (1994), theft (1995), housebreaking (1997), malicious damage to property (1998), murder, attempted murder and kidnapping (2003) charges," the report says. 
Most of those charges were eventually dropped because of his mental illness. But eNCA reports that the outcome of the murder charges in 2003 is unclear because the court file is incomplete. 
The backstory: Things keep getting weirder. First, it was revealed that the interpreter at Mandela's service wasn't signing at all. And then, in an interview with the Associated Press, Jantjie revealed he has schizophrenia and was hallucinating visions of angels while he was on stage during the memorial. On top of all that, the agency that hired Jantjie and employed him at the memorial service has apparently disappeared, unable to be reached. No one is quite sure how Jantjie was allowed to interpret Mandela's service, or why the South African government didn't pick up on these issues during a background check.
Why this matters: It matters for a couple reasons. First, a man who has faced rape and murder charges was standing just a few feet away from some of the most powerful people in the world, including President Barack Obama. He was featured on an international stage, in front of millions of people. Surely there should be some sort of background check system to prevent this.
But it also matters because it highlights issues of disability and mental illness. Jantjie was essentially made into a joke after his "fake" signing, with little regard for the deaf community. And now revelations of severe mental illness bring up the difficulties the mentally ill face with the criminal justice system. No, schizophrenia does not excuse murder and rape. But the way the mentally ill are handled once within the criminal justice system is a significant problem. Not to mention how they're dealt with in society at large. Clearly, Jantjie wasn't receiving the help or care he needed. 
So while this story keeps getting stranger, it also brings up important issues. It would be foolish to ignore them.