Gun Sales Are Depressingly Great Business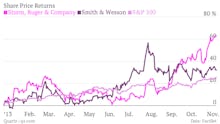 The news: Gun stocks are skyrocketing, with the share prices of some of America's biggest listed firearms manufacturers the highest level in 2013. Analysts say that the increased gun sales are partially due to fears of increased gun control and assault weapon bans following last year's December slaying of 20 children and six adults at Sandy Hook Elementary School, given the Obama administration's subsequent focus on increase gun regulation in the months after and multiple attempts to push new gun laws through Congress.
Sturm, Ruger, & Company and Smith & Wesson have seen solid sales year-round. But short sales of these stocks (where investors borrow shares and sell them on the open market, hoping to buy them after the price declines) is reaching new heights as well, indicating that investors are wary that the vigor won't last.
Why? With no solid gun control measures passing through the Republican-controlled House of Represenatives, the market seems to be calming. Americans no longer believe that the legislature will sign new restrictions, let alone bans of any particular product, into law.
Just 51.7% of new gun purchases now are motivated by the fear that guns will be taken away or no longer be available. Home and self defense are larger motivators.
Additionally, support for gun control has waned after Sandy Hook. After reaching 58% approval for stricter gun laws at the beginning of 2013, support has waned to a more typical 49%.
As analyst Craig Sterling told the Financial Times, "These companies, both Smith & Wesson and Sturm Ruger, are crushing it in terms of profitability," he said. "Incremental growth in economic profit is just not sustainable and it never lasts this long for any company. Something happens and it's either demand or in this case possibly government regulation or competition."
But guns are still a good long-term bet. With little expected new regulation and most new guns sold remaining semiautomatic pistols (34%), which are unlikely to be banned anytime soon, it looks like gun ownership is becoming the norm in the U.S., and the gun markets will be strong for the foreseeable future. That could be bad news for the short-sellers, and very bad news for the anti-gun crowd.