This is How Many People the U.S. Put to Death in 2013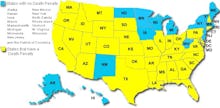 In the U.S. this past year, 38 people from nine states were put to death. Texas accounted for almost 45% of the executions. All inmates were males, except for Kimberly McCarthy, who also marked Texas' 500th execution. 
All of the inmates were put to death with lethal injection except for Robert Gleason, 42, in Virginia. He was the first to die in 2013 and also the only inmate to select electrocution as his means of death.
Lethal injection typically begins with an anesthetic or sedative, followed by pancuronium bromide to paralyze the inmate, and potassium chloride to stop the inmate's heart.
Texas: 17
Florida: 7 
Oklahoma: 5 
Ohio: 3
Arizona: 2
Missouri: 2
Alabama: 1 
Virginia: 1 
The death penalty is limited under the Eight Amendment which states that, "Excessive bail shall not be required, nor excessive fines imposed, nor cruel and unusual punishments inflicted." 
It's currently legal in 32 states (illegal in Washington, D.C.). In May, Maryland became the 18th state to abolish it. However, the repeal was not retroactive, leaving five people in the state on death row.
In October, Gallup reported that 60% of Americans are in favor of the penalty, which is actually a historical low. In the mid-90s, support was as high as 80%. Gallup wrote that, "The current era of lower support may be tied to death penalty moratoriums in several states beginning around 2000 after several death row inmates were later proven innocent of the crimes of which they were convicted."
According to the Innocence Project, 18 people had been sentenced to death before DNA proved their innocence and led to their release. The average sentence served by DNA exonerees is about 14 years. In almost 50% of DNA exoneration cases, the actual perpetrator has been identified by DNA testing.
They state that the seven most common causes of wrongful conviction are: eyewitness misidentification, unreliable or limited science, false confessions, improper forensics, informants, bad lawyering, and government misconduct. 
Looking ahead to 2014, there are reports that both Kansas and New Hampshire — states where the death penalty is legal — could begin debates over repealing the policy.