This is the Most Viral Santacon Video From the Weekend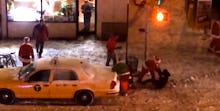 Alas, another Santacon has come and passed. On Saturday hordes of Santa Claus impersonators roved the streets of New York City, hell-bent on getting drunk and spreading Christmas cheer. And what a spectacle it was. How else could we get videos like this?
Santacon: because nothing says Christmas like a bunch of drunk Santas beating the crap out of each other.
So how did this heart-warming celebration of the holiday season come to be? Santacon is an annual bar crawl that features participants dressed as Santa Claus (full suits required) who storm cities hopping from bar to bar. Santacon started in 1994 in San Francisco, but the epidemic has spread around the world. But by far New York City is the most infamous where it's taken place since 1997. In 2012, an estimated 30,000 Santa Clauses descended on NYC to spread cheer and ravage the streets.
I mean, what could be more wonderful (see: horrible) than hundreds of drunken Santa Clauses roaming Manhattan? Why on Earth would someone actually call for an end to Santacon? Sure, expectations of the rowdy crowds caused the MTA to actually ban alcohol on its trains for the 24-hour period of Santacon this year. But that's no reason to call this glorious celebration of Christmas a "dreaded annual event where frat house expats wreak havoc on the city."
OK, so maybe NYC residents aren't particularly fond of the annual event. But there's hope: perhaps the new mayor will put an end to the carnage. Unfortunately, Bloomberg's administration practically embraced it, with police chief Ray Kelly saying, "it's what makes New York New York." But if Bill de Blasio does something to stymie Santacon, well, that'll almost be enough to guarantee him a second term.