In Memoriam: 6 Awful Politicians We Lost In 2013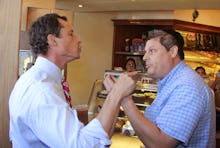 The end of the year is often a time for solemn reflection on those we lost during the year. This is not one of those times. In 2013, we lost several political careers that were memorable, but for all the wrong reasons. 
1. Toronto Mayor Rob Ford
In November, Toronto mayor, internet celebrity, and North America's least photogenic man was stripped of his powers by the city council after a video surfaced of him smoking crack in a hotel room. After months of denial, Ford admitted to the allegations, and subsequently continued to make headlines with his erratic, odd, and altogether entertaining behavior. 
Although Ford may have lost his power we will will always remember the time he called into a radio show under an alias to defend himself; the time he knocked over a woman in a city council meeting; the time he maintained he is considering a run for Canadian Prime Minister; the time he used binge-drinking as a defense for drug use; and lastly, the time he compared himself to the nation state of Kuwait in the First Gulf War. While it is still unknown how Canadian historians will remember Ford, American historians will most likely remember him as the only Canadian politician to appear more than once in a major American newspaper.
2. Former Congressman Anthony Weiner
After admitting to sending illicit text messages even after his very public resignation from Congress back in 2009, former New York Rep. Anthony Weiner went from being the front-runner to replace outgoing New York City Mayor Michael Bloomberg to being one of America's approximately 11 million people unemployed or looking for work. 
We will always remember Weiner's six-year-old little leauger hair cut, flipping off the press at a campaign appearance, his internet alter ego Carlos Danger, his internet mistress Sydney Leathers, and the time he called someone "grandpa" at an AARP forum.  
3. Former San Diego Mayor Bob Filner
The San Diego mayor recently resigned after being accused of multiple incidents of sexual harassment including groping, kissing, and making inappropriate comments towards women over the course of his thirty year political career. Some of those most "touched" by Filner include a 67-year old great grandmother, a Marilyn Monroe impersonator, and several female members of the U.S. armed forced who were raped durring their military service and encountered Filner while serving as the Chairman of the Committee on Veteran's Affairs.
Although Filner denied the allegations saying, "I'm a hugger, of both men and women," he later admitted that his "hugs" may have been a less Sesame Street and more Rikers Island. 
4. Virginia Attorney General Ken Cuccinelli
Virginia Republican Attorney General Ken Cuccinelli lost a close race this November to Democrat Terry McAuliffe for Governor of Virginia. Originally, Cuccinelli was seen as the likely frontrunner but he struggled with single, female voters for his highly publicized, controversial, and often draconian seeming views on social issues. America will remember Cuccinelli for his unique ideas, such as denying divorces to couples with minor children, allowing guns in American airports, outlawing abortion, and calling homosexuality immoral.
Although Cuccinelli, has said he doesn't plan to run for future political office some have suggested he would make a wonderful Governor of Colonial Williamsburg/present day Iran.
5. Former Detroit Mayor Kwame Kilpatrick
Although the former Detroit mayor was a rising star when he was elected at the age of 31, he was later plagued by a wide variety of scandals and sentenced to 28 years in prison earlier this year. Kilpatrick leaves behind his beloved city of Detroit, which earlier this year became the largest American municipality to ever file for bankruptcy. Among other things, the self described "hip hop mayor" will be remembered for being named as one of the worst mayors in America by TIME magazine, and using the n-word' during a State of the City address. 
6. Minnesota Congresswoman Michele Bachmann
Last May, the Minnesota congresswoman announced on her website that she would not be seeking a fifth term in the U.S. House of Representatives in 2014. The news came as Bachmann, already under fire for campaign finance investigations, was facing a difficult re-election campaign in a district that she only won by only 1.2% in 2010. During her eight years in Washington, D.C., Bachmann was known as a tea party favorite, and more recently, for her staunch opposition to Obamacare, which resulted in her vocal support for 46 failed votes to repeal the Affordable Care Act in the U.S. House. 
Even though she may be gone, Michele Bachmann will never be forgotten. We will all remember her for her erratic and insane behavior, such as, claiming that HPV vaccines can lead to mental retardation; saying the Founding Fathers worked to end slavery; and stating that the American Revolution actually started in Concord, New Hampshire instead of Concord, Massachusetts. Although she is leaving Congress, Bachmann has vowed to continue the work she's done there — stridently condemning the government while doing nothing to fix it. Coincidentally this makes Bachmann less like a United States lawmaker and more like a slightly senile, retirement home resident.
Although I'm pretty sure all of the above politicians are dead, burried, and in the case of Mr. Kilpatrick in jail, we should all remember that in politics, ressurection is always a possibility.