This Map Shows How Quickly Beyonce's Album Became the Biggest Release of 2013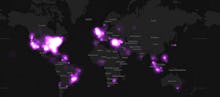 Beyoncé's surprise album release is almost bigger news for the internet than it is for Beyoncé. After releasing an album available only on iTunes with no advance promotion, she has somehow set the record for most sales in an album's opening week ever in the iTunes store. Basically, her legion of fans paid her to market her album.
Now, Twitter has produced an animated map showing just how quickly news spread across the world.
Within 12 hours, Twitter users had generated 1.2 million tweets and set a new record for the fastest growing Twitter trend (significantly less impressive when you realize that Beyoncé's competition for the record was Syfy's Sharknado from this summer).
Russia and Mongolia seem unimpressed. Istanbul is surprisingly interested (likely because the album dropped at the start of the news cycle there).
New York and London are, predictably, depicted as blazes of white light.