5 Things Women Did For the First Time in 2013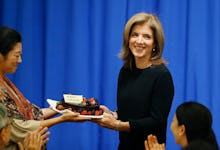 As we celebrate new inroads into gender parity with Mary Barra's appointment as the first female CEO of GM and Inga Beale's turn as the next Lloyd's of London head, it's easy to assume that it's all coming up roses for women in 2013.
But, let's stop and think: Why, in 2013, is a woman becoming the first to do something still such big news? 
As Tina Fey said when she won accepted the Mark Twain Prize for American Humor back in 2010, "Apparently I'm only the third woman to receive this award, and I'm so honored to be numbered with Lily Tomlin and Whoopi Goldberg, but I do hope that women are achieving at a rate these days that we can stop counting what number they are at things."
The first female head writer at Saturday Night Live makes a great point — and one that Time echoed when some judged the choice of Pope Francis for "Person" of the Year.
"The late shift to Person reminds us how few times the Man of the Year has been a Woman," wrote Radhika Jones of Time. "...We can be glad to live in an era when making "American Women" the Person of the Year would feel patronizing, but we still haven't seen a female President, nor ... are our corporate ranks exactly overflowing with female CEOs—two job categories that often feed the Person of the Year machine."
So let's take a look at women who kicked butt and took names in 2013, laying the groundwork for even more girls and women to become the first. But we should remember that these firsts are a Catch-22: While we should celebrate women breaking new ground, the fact that there is still so much ground to be broken makes these victories bittersweet.
1. Gwen Ifill & Jody Woodruff become first female anchor team of 'PBS NewsHour'
These two veteran anchors make up the first female team of PBS NewsHour, a venerable nightly newscast. When the news was announced earlier this year, PBS's Linda Winslow said, "This marks an exciting new chapter in the history of PBS NewsHour. Gwen and Judy have been the heart and soul of NewsHour for years, so it's wonderful to formalize these new roles and give them an opportunity to provide even more input on the content and direction of the show." 
2. Caroline Kennedy becomes first female U.S. ambassador to Japan
Embarking on a political career that is built into her blood, Kennedy combined her celebrity status, her legal prowess, and her esteem in political circles to become the first female U.S. ambassador to Japan back in November. "The Japanese people feel closest to her father of all presidents, and in that sense I'd like to offer my hearty welcome," Chief Cabinet Secretary Yoshihide Suga told the media. "I think she's a wonderful ambassador to develop the Japan-U.S. relationship further."
3. Deborah Rutter was tapped to become president of the Kennedy Center
The Kennedy Center is a Washington D.C. art organization (and where Fey accepted her Mark Twain award). Upon the appointment of the new president, famed cellist Yo-Yo Ma had these words to say about Rutter (who is leaving her post heading up a Chicago symphony for the Kennedy Center role): "[She] has a vision for the role of the performing arts in society that closely mirrors John F. Kennedy's words: 'The life of the arts, far from being an interruption, a distraction, in the life of a nation, is close to the center of a nation's purpose—and is a test to the quality of a nation's civilization.'"
4. Angela Merkel stands up for privacy as first female German Chancellor
Angela Merkel was an outspoken world leader during one of the most challenging parts of the Obama administration's second term, calling out the President for tapping her phone. Later, Saturday Night Live's Kate McKinnon did an amazing take on Merkel's faux shame at her browser history when she looked up "Angela Merkel boxy," "Jason Segel no shirt," and tiny emails that we call "texts."
5. Sara Blakely is the first female billionaire to sign the Giving Pledge
Proving that Spanx can both save your outfit and save the world, CEO Sara Blakely signed a pledge begun by Bill and Melinda Gates in conjunction with Warren Buffet to give over half of her wealth to charity. "While many of the world's natural resources are being depleted, one is waiting to be unleashed — women," Blakely commented. "I have so much gratitude for being a woman in America ... I never lose sight of the fact that there are millions of women around the world who are not dealt the same deck of cards upon their birth. It is for those women that I make this pledge."