The 5 Biggest Challenges Bill de Blasio Faces As New York City Mayor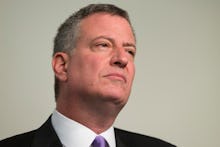 New York City Mayor-elect Bill de Blasio isn't due in office until Jan. 1, but with his sweeping campaign promises of closing the income gap, overhauling stop-and-frisk, and expanding the education system, the progressive already has a lot on his plate. Here are the five biggest challenges de Blasio will face as mayor. 
1. Reducing income inequality
Income inequality is a big issue in New York City, but it's a national issue affecting cities like Boston, San Francisco, and Washington, D.C. Relieving it is not so simple as creating more affordable housing. Journalist and author George Packer praised de Blasio in the New Yorker for wanting to "make New Yorkers think about [inequality], and not as an unpleasant fact of metropolitan life, but as an immense problem that must be addressed." 
Last year, the City Council passed a living wage bill in order to require employers to pay $10 an hour for employees on economic-development projects that receive city subsidies. However, it it only affects 600 people a year. Green-lighting more development projects will definitely upset New Yorkers who don't want to see their neighborhoods changed. Fixing the income gap has been one of de Blasio's biggest campaign promises, but it could be too big of a promise for a city mayor.
2. Reforming stop-and-frisk
When de Blasio picked former police commissioner Bill Bratton, they said in a statement, "He knows what it takes to keep a city safe, and make communities full partners in the mission … And we will do it by rejecting the false choice between keeping New Yorkers safe and protecting their civil rights. This is an Administration that will do both."
De Blasio wants to rein in stop-and-frisk and decrease racial profiling. But by choosing Bratton as NYPD commissioner, his critics are doubtful that actual reform will happen. As LAPD chief from 2002 to 2009, Bratton significantly expanded the use of stop-and-frisk. Unlike in New York, the number of LAPD stops that led to arrests doubled during his tenure, according to a 2009 study by Harvard's Kennedy School of Government. But the ACLU also came out with a report claiming the LAPD was engaging in racial profiling to make those arrests. Bratton lashed out at them with, "I resent their continuing attempt to try to infer that this department engages in racial profiling. We do not." Will he say the same in New York?
3. Working with unions
In late November, Michael Bloomberg announced that he would be leaving de Blasio with a balanced budget, filling a $2 billion gap estimated for the next fiscal year through tax revenue and spending cuts. But this doesn't account for the estimated $7 billion in retroactive pay that the city's 300,000 municipal workers are demanding. Last year, Bloomberg clarified that union workers without contractswouldn't receive retroactive pay, even after he left office.
"I think it's clear down the road no administration is going to have the money to give pay [for] the past," Bloomberg said during the unveiling of his 2013 fiscal year plan. Union leaders are now turning to de Blasio for a better deal since he has close union ties. But he's not planning to go the whole way.
"There's no way in the world to pay out the full amount — that's estimated as much as $7 to $8 billion, and that's impossible to find," de Blasio said during the final debate of the mayoral campaign. "They have to show us the cost savings to go with it."
4. Expanding education
After 12 years of Bloomberg's education policies, New York City school principals want a complete overhaul of the education system. They are looking to de Blasio to do this. The incoming mayor plans to roll out universal pre-kindergarten funded by increased taxes on New Yorkers earning more than $500,000 a year. This expansion of the school system bodes well for teachers' unions looking for new members. But raising income taxes requires the approval of the New York state legislature, including the Republican-majority state Senate that would be reluctant to a tax hike. Governor Andrew Cuomo has also been vocal about reducing taxes, and is likely to be re-elected in 2014.
Also, what about charter schools? They blossomed under Bloomberg, but de Blasio doesn't think the city needs more of them. He wants to end the city's policy of giving free rent to those that co-habit public school buildings. The prospect of having to pay rent is making charter school officials worried, including Eva Moskowitz, founder and CEO of the Success Academy Charter Schools, who wrote an op-ed in the New York Post criticizing the plan. But de Blasio said during a mayoral debate that he "simply wouldn't favor charters the way Mayor Bloomberg did because, in the end, our city rises or falls on our traditional public schools."
5. Gaining federal support
Being the leader of a major city almost requires you to play a part in national politics, as past New York City mayors have, and de Blasio is most eager to become a "national convener for a progressive urban agenda" by strengthening the city's relationship with the federal government. Last Friday, he met with President Obama to do just that. He believes that Washington has an obligation to invest in city infrastructure, education, and transit, among other areas. To be a successful spokesperson, however, means actually being a successful mayor. Among many things, he'll need the support of the state legislature to fund his expansion of the education system. He'll also have to convince City Council to allocate more of the capital budget on improving transportation for the outer boroughs. And he hasn't even been sworn in yet.