11 Stunning Images From Protests That Rocked the World in 2013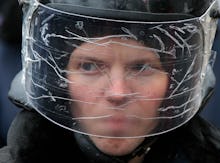 December is here, and it's time to reflect on, examine, and look back at some of the most memorable events and images of 2013. The last 12 months have seen a myriad of protests across the globe, including those against governmental regimes, those against and anti-gay legislation, and those that call for freedom of speech and justice.
Here are some of the most powerful images from 2013's biggest riots and protests:
1. Brazil's violent protests against government corruption and spending
More than 1 million protesters filled the streets of Brazil in June in a mass movement against government spending policies, social inequality, and to demand the impeachment of their president on corruption charges. "We are against a government that spends billions in stadiums while people are suffering across the country," said Natalia Querino, a 22-year-old student participating in June's protests. "We want better education, more security and a better health system."
Fueled in large part by the South American country's spending on the 2014 World Cup rather than on nationwide concerns like health care and education, Brazil's wave of protests in 2013 was a long-overdue demonstration of its citizens' years of frustration with the state's corruption and spending priorities. 
2. Egypt's massive protests that toppled President Morsi
Ousted after just one in year in office, Egypt's first democratically-elected president was overthrown by the military following "the biggest protest in Egypt's history" that called for President Muhammad Morsi's resignation. It and captured the world's attention in July.
Millions of anti-Morsi protesters around the country erupted in celebrations with fireworks bursting over the crowds in Cairo's iconic Tahrir Square after the televised announcement by the country's army chief.
3. Ukraine's pro-EU campaign
Hundreds of thousands of Ukranians braved freezing temperatures in Kiev, in Ukraine's Independence Square, to protest the government's failure to sign an European Union (EU) integration pact that could have built stronger ties with the EU and even acted as a precursor to EU membership. Atfter the country's biggest demonstration since the 2004 Orange Revolution, protests turned violent as police used tear gas, flash grenades, and truncheons to contain demonstrators. Ukraine's opposition is now calling for the resignation of president Viktor Yanukovych.
"Our plan is clear: It's not a demonstration, it's not a reaction. It's a revolution," said Yuriy Lutsenko, speaking from the top of a bus.
4. Thailand's ongoing anti-government protests
Thailand's ongoing anti-government protestors demand the resignation of Prime Minister Yingluck Shinawatra, as well as for her billionaire family and older brother, Thaksin Shinawatra to cease influencing the government. Demonstrators have also accused her of being Thaksin's puppet until he can return from his self-imposed exile.
Thaksin, a billionaire tycoon, is a former prime minister whose political party won every election since 2001. Yingluck has claimed that she is open to talks to resolve the current conflict, but has so far refused to vacate her position as prime minister.
5. Turkey's Taksim Square protests
What started as a peaceful demonstration against government plans to replace a park in Taksim Square with a shopping mall quickly mushroomed into wider expression of anger against what protesters called an increasingly authoritarian government under Prime Minister Recep Tayyip Erdogan.
Police officers' violent crackdown on demonstrators in May included water cannons, tear gas, plastic pellets, and even armored vehicles. It transformed Taksim Square and Gezi Square into vicious battle zones of mass civil disobedience that were met with a grim and heavy-handed response from the Turkish government that shocked the world.
6. Russia's activism against anti-gay legislation
Activists in Russia and across the globe protested Russia's crackdown on LGBT citizens and institutionalized homophobia in Russia, including an anti-gay "propaganda" law that stigmatized the country's gay community, proposed removing the children of LGBT parents from their homes, and banned the distribution of information about homosexuality to children.
As part of a governmental effort to "promote traditional Russian values as opposed to Western liberalism," the measures created a climate of fear and violence for LGBT citizens including kidnappings and brutal hate crimes by neo-nazi groups. Activists and celebrities from all over the world also called to boycott or strip Sochi of the Olympic Winter games scheduled for February.
7. FEMEN's topless feminist protestors
Famous for their tactic of topless protests, Ukrainian "sextremist" group FEMEN, will be remembered in 2013 for the numerous, not to mention controversial, protests against Vladimir Putin, the jailing of a young woman in Tunis, the protesting of Germany's Next Top Model, Paris Fashion Week, the pink dollhouse opening in Berlin, and more.
The group also organized an "International Topless Jihad Day," where topless protesters in Europe stood outside mosques in solidarity with Tunisian high school student Amina Tyler, who took topless pictures of herself in defiance of religious oppression. The protests, however, were not as well received as FEMEN had hoped throughout their claims to stand up for "oppressed Muslim women."
8. India's protests against reinstating gay sex ban
After India's Supreme Court reversed a landmark 2008 lower court order that decriminalized gay sex, hundreds of gay activists took to the streets in the nation's capital and other large cities across the country demanding the government remove the colonial-era law that forbids "carnal intercourse against the order of nature with man, woman or animal."
As a major setback for the world's largest democracy, the court's decision sent shock waves throughout the LGBT community and human rights activists in India and across the world. Many tweeted their protests on social media using #Sec377 and #GayforaDay on Twitter and Facebook.
9. USA's demonstrations demanding "Justice for Trayvon"
As news spread of the jury's acquittal of George Zimmerman of second-degree murder and manslaughter of Florida teenager Trayvon Martin, social media networks and cable channels ignited with heated reactions as thousands of people took to the streets across the country to show their support for Trayvon and displeasure for the controversial trial's verdict, demanding "Justice for Trayvon" and chanting "hoodies up" and "no justice."
"I've got four beautiful daughters. I want them to look forward rather than behind their backs," said Harlem resident Maria Lopez, 31, who attended a rally with her children. 
10. Greece fight the closing of the National Broadcast Service
After the shocking closure of Greece's national broadcast service, Hellenic Broadcasting Corporation (HBC or ERT) in June, thousands of angry Greeks took to the streets to rally outside of the HBC broadcast building.
Nearly two-thirds of Greeks disapproved of Prime Minister Antonis Samaras' move to close the state-owned television broadcaster, sparking another wave of protests and crippling strikes against the cash-strapped country's tough spending cuts, administrative reforms, tax hikes, and austerity measures demanded by international rescue lenders. The country has depended on rescue loans from international creditors, its European partners, and the International Monetary Fund since May 2010.
11. Bulgaria's student protests against poverty and corruption
Students and other demonstrators staged a three-week sit-in at Sofia University as part of an Occupy Student movement in October — the latest protest in Bulgaria, one of the poorest countries in the European Union. Bulgarians have been taking to the streets since February to express their discontent with the "mafia-style" socialist-backed technocratic government.
Imgur user plamentanev posted this powerful photo from Bulgaria on Wednesday and described the scene:
"This photo really moved me so much that I decided to try and raise awareness to what is going on in my country. This girl was crying and begging the policeman not to hit her or any of her friends. Then the policeman started crying as well, and he said to her, 'You just hold on girl.'"