Chelsea Manning Shouldn't Have to Spend Her Next Birthday in Jail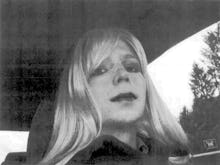 Today is the 26th birthday of whistleblower Chelsea Manning, who is currently serving a 35-year jail sentence for releasing about 700,000 government documents to Wikileaks back in 2010.
This means that she'll spend yet another birthday in prison, even though she should be free. 
Manning will be spending her birthday at the U.S. Disciplinary Barracks at Fort Leavenworth in Kansas. Manning has been fighting for her right to live as a woman and receive treatment for gender identity disorder. She is currently being held in a men's prison, which has denied her hormone therapy. Manning is prepared to go to court. 
In honor of her birthday, Amnesty International tweeted a link to a petition for Manning's immediate release.
On Thanksgiving, TIME published a reflection on written by Manning in which she thanked the world's "remarkable pioneers of social justice and equality," including Martin Luther King Jr., Harvey Milk, and Malcolm X:
"I'm thankful that one day — perhaps not tomorrow — because of the accomplishments of such truth-seekers and human rights pioneers, we can live together on this tiny 'pale blue dot' of a planet and stop looking inward, at each other, but rather outward, into the space beyond this planet and the future of all of humanity." 
It's safe to say that Manning is in the category she describes. She is currently paying a steep price for shedding light on the U.S. Army's behavior abroad.
Happy Birthday, Chelsea. I hope that you're released soon.