Pope Francis' Birthday Party Included These Surprising Guests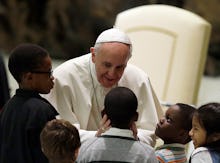 He may be the head of the wealthiest institution on Earth, but Pope Francis staged a small, low-key affair for his 77th birthday.
On Tuesday, Francis celebrated his first birthday since he became the Holy Father of the Catholic Church and lived up to his reputation as "the People's Pope." Instead of throwing a lavish party at his papal residence (as did his predecessor Pope Benedict), he observed morning mass in the small guest house where he lives, and ate breakfast with his aides — and four very special guests.
Four homeless men on the streets near the Holy See were surprised when Archbishop Konrad Krajewski, who is in charge of administering the pope's charity, invited them to the pope's private residence.
According to the Vatican, the four men took part in the mass, spoke to the pope individually, and joined the birthday breakfast. One man even brought his dog. The group consisted of only the four guests and top Vatican aides, due to the pope's insistence on keeping a "family environment."
Although it's not clear how the four men were chosen, but rumors have circulated around Rome that the famously-frugal pope recently snuck out of the Vatican in disguise to distribute alms on the street. (Krajewski hinted as much during a television interview.)
In line with his charity work, Francis also celebrated his birthday three days earlier when he visited a children's care facility in Vatican City. The children surprised him with a birthday cake, and one brave troublemaker snatched the pope's skullcap as a joke.
But the pope plans to have some fun and personal time on his birthday as well. A delegation from San Lorenzo, the pope's favorite soccer team, is scheduled to arrive and present their recent Argentine national championship trophy as a gift to Francis. The pope has been a fan of the team since he was a boy, and has been a dues-paying member since 2008.
"When [the club vice president] visited the pope a few months ago, Francis asked him to win the championship," said San Lorenzo manager Bernardo Romeo. "We're going to offer him the trophy as he is the world's most powerful man, we're proud and excited for the trip."
And for the faithful who were not fortunate enough to attend a private meal with the pope or present a trophy to him, the Church sent out a virtual birthday card through its website and email list. The card features pictures of the pope from this past year, quotes from his homilies, and a greeting from Francis: "God's tenderness ... is manifested in signs. Best wishes, Holy Father."