'Better Call Saul' Will Stream On Netflix, But Should It Even Exist?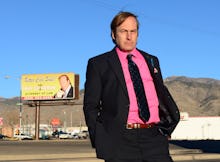 Breaking Bad may be considered the best TV drama ever. It redefined the way we watch TV, and its availability on Netflix is one of the reasons why binge watching is an accepted activity among our peers (and even our parents). Those of us who logged many couch hours in dedication to the show will have another opportunity to do so in the coming months. Netflix announced that they will be streaming the show's spin off Better Call Saul in late 2014 after the show finishes its first season run on AMC. While that's exciting news, the question remains whether or not the spin off is even a good idea. Is it better to let the Breaking Bad characters remain memories, or do we really need new versions of their lives in our Netflix queue? I'm leaning towards the former.
Better Call Saul was conceived as a Breaking Bad prequel that focuses on the character Saul Goodman in his days as an Albuquerque mall lawyer, before he began repping Walter White, high school chemistry teacher turned meth kingpin. Netflix's head of content Ted Sarandos rightfully dubbed Breaking Bad "one of the great TV experiences in this new golden age of television" and claimed that "Better Call Saul promises to continue its tradition of powerful storytelling."
Here's the thing: the success of Better Call Saul might not have anything to do with its storytelling prowess. Breaking Bad is really good. Like, meth addiction good. It set the bar almost impossibly high for any spin offs to succeed.
Past TV spin offs have proven this impossibly high expectation theory to be true. Take Friends. In its 10-year run, the sitcom became a critical favorite and a cultural phenomenon, causing NBC execs to view a spin off as a logical next stop. Joey (said spin off) was canceled after two seasons, suggesting that viewers would much rather watch a late-night rerun of The One Where Ross and Rachel Take a Break, than a brand new scene of Joey and his equally promiscuous older sister bickering.
All that said, a spin off may be better than the alternative: Breaking Bad: the Movie. (Have you seen Sex and the City 2?)