Why Young Cambodian Girls Are Being Sold Into Sex Slavery, and How We Stop It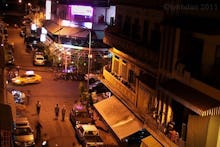 Cambodia, home of the Angkor Wat, attracts more and more tourists every year with its abundance of art, culture, and natural habitats. Yet, the country also draws visitors for a much darker reason: to have sex with children.
Child sex tourism is an internationally-recognized human rights problem, and it's a growing one: UNICEF estimates that about two million children are sexually exploited each year. 
In Cambodia, this problem is acute: According to UNICEF, approximately 30-35% of sex workers there are between ages 12 and 17. In Svan Pak, a village known as "the place to go if you're looking for the youngest girls," there are brothels that specialize in prepubescent girls.
Many international organizations are hard at work fighting this problem, but it is important to think about the problem at its root: why are children pushed into prostitution in the first place?
Many victims, often girls from poor families with impossible financial burdens, are approached by brothel owners. They are tricked into accepting jobs in "cafés" or "karaoke bars" and promised financial support for their families — "at best... a few hundred [U.S.] dollars." By the time the girls find out the truth about their jobs, they owe the brothel owners so much that they are forced to continue or risk being beaten.
An unnamed victim: "I thought, I am here to serve coffee, not be a prostitute. But the boss told me that I had to be a prostitute. She forced me, and I was scared. I did not want to go with those men, but being beaten was worse."
Yet for many other girls, the story is more tragic: they are sent by their own mothers to work as prostitutes. What makes these stories sadder is that financial conditions forced the parents to do this.
Two years ago, Neoung sold her 12-year-old daughter Kieu's virginity before sending her to work at a brothel, because both she and her sick husband were unable to make enough money for the family to survive. She said, "Kieu, your dad is sick and can't work ... Do you agree to do that job to contribute to your parents?" Today, Neoung admits, "I know that I did wrong so I regret about it, but what can I do?"
When moneylenders began to threaten her at home, Ann, who "work[s] hard" but "not enough to live by," also sent her daughter Sephak into prostitution. Like Neoung, Ann regrets it deeply. "I saw other people doing it and I didn't think it through ... If I knew then what I know now, I wouldn't do that to my daughter,"she said.
For Ngao, it was for another financial reason that she sent her daughter Toha to a brothel: too many children in the house without enough income to support them all. According to Ngao, "some people say, 'It's OK — just bring your daughter [to the traffickers] so you can pay off the debt and feel better.'" But it's not okay, clearly — Toha tried to kill herself in a bathroom before a friend broke down the door and saved her — her mother regrets her actions now; she would not do the same again, she says, as she now has access to better support.
While mothers regret, the victims of child prostitution are also left helpless. If they are caught trying to escape, they are beaten and dragged back to the brothel. A victim that remained anonymous who had tried to run away said, "They forced me into a room for three days and three nights. They beat me. They did not let me have anything to eat or drink. And they sold me to a different brothel."
Today, foreigners travel to Cambodia undercover to obtain information for law enforcement officials so they can conduct raids and make arrests. However, while the Cambodian government recognizes the problem, it is also home to a lot of corruption: it is ranked 160 out of 175 countries on Transparency International's Corruption Perceptions Index. Because police wages are low, "many of the cops are in the pimps' pockets" — pimps can pay cops $150, the equivalent of five months' pay for the average Cambodian policeman, to ensure that neither they nor their clients would be arrested.
When Leigh, a pastor, was in Phnom Penh in 2006, a 12-year-old girl came up saying, "My friend, my friend, she is 10 — two men tonight — mother, father, sell. You come, you help, please ..." It was then that she decided to set up SHE Rescue Home, a safe-haven for girls who have been or risk being trafficked, raped, or prostituted. Similarly, pastor Don Brewster founded Agape International Missions when he and his wife discovered the world behind sex trafficking after an investigative mission trip to Svay Pak in 2009 — "we didn't believe it until we saw van load after van load of kids."
Thanks to Leigh, Brewster, and many others who have established safe-houses, more and more victims of child prostitution have been saved. But the problem has not been eradicated completely. At the end of the day, more pressure must be put on the Cambodian government and law enforcement agencies to right this wrong once and for all.