Watch Spike Jonze's First Movie, a Cult Skateboarding Short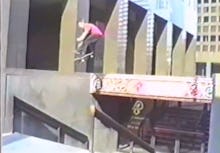 Spike Jonze's new movie, Her, may be a tale for the internet age about a writer's infatuation with his operating system, but his first movie was a loving film about skateboarding. 
Jonze's debut was a short film called Video Days, which starred a young Jason Lee before he became a famous actor. The film showcased the tricks of five talented skateboarders — Guy Mariano, Jordan Richter, Mark Gonzales, Rudy Johnson, and Lee — as they do tricks and has become a classic among skateboard enthusiasts to this day. It's one of the most influential skateboard videos ever, and has even been included as the centerpiece for an exhibit at South Methodist University's Pollock Gallery.
With only a few lines of dialogue, the movie still manages to capture the free spirited nature of the skaters, and it has a truly great soundtrack. Even the creator of Being John Malcovich and the love story of our time had to start somewhere.