The 9 Brand New Members Of the Rock and Roll Hall Of Fame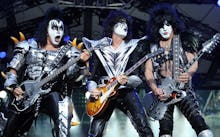 The Rock and Roll Hall of Fame has officially announced the 2014 class of inductees, and boy is it a doozie. Nirvana, KISS, Peter Gabriel, Hall and Oates, Cat Stevens, and Linda Ronstadt are among the bigger names in popular music history, each in their own way, and I think it's safe to say the selection committee did a great job with this year's picks. 
Besides this collection of performers, the E Street Band will be given the Award for Musical Excellence, and Beatles manager Brian Epstein and original Rolling Stones manager Andrew Loog Oldham will both receive the Ahmet Ertegun Award for non-performers.
Almost any casual fan will agree with most of these choices, but let's take a closer look at them anyways. 
1. Nirvana
In their first year of eligibility for induction (25 years after the release of their first album in '88), Nirvana seems like a no-brainer. Helping to launch a new genre of rock and roll in the 1990s, Nirvana is, to this day, arguably one of the more important bands of the last few decades. Not only did they breathe new life back into serious rock and roll, but Kurt Cobain reinvigorated a generation of song-writers with lyrics powerful enough to sustain rockers' interest in moving acoustic sets.  
2. KISS
Though they've been passed over for a couple years now, KISS and their army is finally getting the nod. Some might argue that their heavy use of pyrotechnics, flamboyant stage outfits, and over-the-top theatrics subtracts from the music, but how can you argue with songs like "I Wanna Rock N Roll All Night," "I Was Made For Loving You," "New York Groove," and even a ballad as sweet as "Beth." Plus with an army of followers and more that 100 million albums sold worldwide, it's hard to ignore that KISS knows rock and roll. 
3. Peter Gabriel
Gabriel was actually already inducted into the Hall of Fame as a member of Genesis back in 2010, but it's about time he received recognition for his solo work as well. Though it's hard to compare his solo work to his musical contributions as a member of the supergroup Genesis, Gabriel was still a major player in the '80s pop scene with hits like "Solsbury Hill," "In Your Eyes," and "Sledgehammer," winning six Grammy Awards, 13 MTV Video Music Awards. Perhaps not as obvious of a choice as Genesis, but a worthy one nonetheless.
4. Hall and Oates
Even though Darryl Hall was stunned by his Hall of Fame induction, you shouldn't be. Okay yeah, Hall and Oates was quintessentially '80s pop and not everyone loves that ... but on the other hand, they took '80s pop and infused just the right amount of rock, blues, and soul to create songs that were both perfect for the era and could stand the test of time. This perfectly coiffed duo pumped out hit after hit like "You Make My Dreams Come True," "Rich Girl," "Private Eyes," "I Can't Go For That (No Can Do)," "Kiss on My List," and "Maneater."
5. Cat Stevens (aka Yusuf Islam)
Even though the career of Cat Stevens only lasted a few years (before he became the prominent Muslim convert Yusuf Islam, sold all his instruments, and stopped making music) it was enough to produce an impressive discography of albums including Tea for the Tillerman and Teaser and the Firecat, both certified triple platinum. Though some might question whether his post-Stevens life should be taken into account by the Hall of Fame, Stevens was one of the first major musicians in the early '70s to write and sing about himself and his thoughts, thus paving the way for many after him in a musically rich decade. I mean seriously, can you really listen to Tea for the Tillerman and tell me he's not pouring his heart into every track?
6. Linda Ronstadt
For her over 40 year career, Linda Ronstadt was a stalwart in the recording industry. She has earned 11 Grammy Awards, two Academy of Country Music awards, an Emmy Award, and has released over 30 of her own studio albums with hit songs like "You're No Good" and "Blue Bayou." On top of that, she has lent her versatile yet distinctive voice to over 120 albums, collaborating with a wide range of artists such as Bette Midler, Frank Zappa, Neil Young, and Johnny Cash. Sadly, Ronstadt has lately been battling Parkinson's disease, which has left her unable to sing
7. The E Street Band
Bruce Springsteen was rightly inducted to the Hall of Fame in 1999, but the smart money says his career wouldn't have been as prolific without the backing of the incomparable E Street Band. Being recognized for having "spent their careers out of the spotlight working with major artists," the E Street Band has been The Boss' primary backing band for almost his entire career. Sure, they didn't necessarily write the songs, but can you really imagine "Tenth Avenue Freeze-Out,"Thunder Road," "Born to Run," or "Rosalita" without them?
8. Brian Epstein
Many will argue that The Beatles were simply destined for greatness, but without the hard work of Brian Epstein, it's hard to know if their music would have ever been heard outside the Cavern Club. Epstein managed and guided the Fab Four from 1961 until his death in 1967 and although his music business savvy wasn't the highest, his commitment to the band helped shape them into the prolific group they would become. Without Epstein, The Beatles might have made it anyways, but do we really want to take that chance?
9. Andrew Loog Oldham
There are differing accounts regarding how much of an influence Andrew Loog Oldham had on the Rolling Stones as their manager and producer from 1963 to 1967. Though he's credited a a producer on several of their key early tracks such as "Paint It Black," "Under My Thumb," and "(I Can't Get No) Satisfaction," reports vary as to how much creative input he truly had on the music. What can certainly be said, however, is that Oldham was instrumental in encouraging Mick Jagger and Keith Richards to start writing their own songs and promote the "bad boy" image the Stones embraced to differentiate themselves from the clean-cut Beatles — two decisions that helped the Stones become one of the world's greatest rock band.