This Soldier's Video To His Parents Will Leave You Awestruck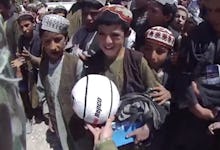 Ever watch a video that hits so close to home, you can't help but click refresh and watch it again? Here's one of those. 
A finalist at this year's Tropfest — the world's largest short film festival — Honi Soit Qui Mal Y Pense (a motto from the Australian Army's Royal Engineers meaning "Evil to him who evil thinks") tells the story of Tom Abood, a young Australian soldier serving his country alongside U.S. troops in Afghanistan. Shot in first-person, we're invited to listen in as he writes home to his mother.
Without being overtly political, Abood attempts to answer a question we've all asked ourselves: Why are we in Afghanistan? Using real-life footage shot by soldiers in combat zones, he maps out the answer, allowing us to see the war from the unique perspective of a soldier.
"One thing I've learned is I'm not fighting because I hate what's in front of me. I'm fighting because I love what I left behind," he writes.
"A lot of people hate what we do, and sometimes, I do too," he continues. "I keep reminding myself there's a bigger picture — that's why we're here. Fighting for human rights."
In grappling with the horrors of war and all that he's left behind in Australia, Abood realizes a newfound gratitude for life, freedom, education, and home. He thanks his mother for sending chocolates and for having always forced him to go to school when he tried to pull "sickies."
Whether or not you agree with the war, these four minutes are likely to make you think twice before taking your next "sickie." Debuting over the holiday season, Honi Soit Qui Mal Y Pense reminds us what this time of year is really about: being thankful for our freedoms, for our loved ones, and for all those who sacrifice themselves to protect us.
Politics aside, there are many Tom Aboods trying to do good. While the Aussie concludes by telling his mom, "I'll be home soon," the sad truth is, we know that not every soldier will.