20 Ridiculous Ways the Government Wasted Your Money in 2013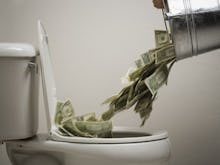 "The cupboard is bare ...There's no more cuts to make."
That's what House Minority Leader Nancy Pelosi (D-Calif.) told CNN's State of the Union in September during an interview about spending reform.
Really? She can't find any spending to cut in the federal budget? Why can't she start with the $30 billion in government waste identified in Sen. Tom Coburn's (R-Okla.) fourth edition of his annual "Wastebook?"
While Washington has been whining all year long about the sequester — a 2% reduction in future levels of federal spending over the next 10 years from $47 trillion to $46 trillion — they're now patting themselves on the back for passing a bipartisan budget compromise that only reduces the deficit by $23 billion … over the next 10 years.
Coburn's "Wastebook" identifies 100 examples of blatant waste totaling $30 billion that could be cut tomorrow, including defense and discretionary spending — areas in which both Republicans and Democrats were glad to reconsider projected 2014 sequester cuts when proposing their respective budget deals.
Here are 20 of the most expensive and bizarre federal waste items highlighted in the report:
1. IRS workers get pay and benefits while owing $3.5 billion in back taxes
In 2011, the IRS found 312,000 federal employees and retirees were delinquent on their federal income taxes, owing a total of $3.5 billion in unpaid federal income taxes. This represented an 11.5% increase in the number of federal employees failing to pay their taxes and a 2.9% increase in the total taxes owed to the Treasury by these public servants. The 2011 figures (the most recent year for which data is available) include 107,658 civilian federal employees owing more than $1 billion in unpaid taxes; 141,980 military and civilian retirees owing $2.1 billion in taxes; and 61,928 current military with $329 million in outstanding taxes. Why should government employee tax cheats continue to have the rest of us pay their salaries and benefits?
2. Millionaires get subsidies to buy beachfront property, government loses $500 million
A U.S. Department of Agriculture (USDA) home loan program, created to help people with low and moderate incomes afford a home in "rural areas," has been used by many millionaires to acquire homes in "resort communities" in tropical paradises like Hawaii. According to the report, more than 100 individuals or families received loan guarantees for $500,000 or more from the USDA to purchase homes in Hawaii. And if these new homeowners later cannot afford their new homes, the federal government will protect the banks from losses by repaying 90% of the loans. So last year, the USDA paid $500 million in lost claims. Did we learn nothing from the affordable housing crusade?
3. $432 million for warplanes that won't be used
The Air Force is clipping the wings of brand new planes before they even take their maiden flight. In August 2012, a former Air Force Chief of Staff testified before Congress that the Air Force did not want to acquire more C-27Js due to the fiscal constraints brought on by the sequester, the C-27Js' limited capabilities, and because the C-130 was more cost effective. Contrary to the Air Force's request to stop production of the planes, and even though Congress was aware that the planes would never be used, it continued to fund C-27J production in the Fiscal Year 2012 National Defense Authorization Act. After taking existing C-27Js out of service, the Air Force then hoarded its brand new C-27Js at Davis-Monthan Air Force Base in Tucson, Arizona — 16 new C-27Js in September 2013 and an additional five in 2014 — without the aircrafts taking a single flight in support of our service members, according to a Dayton Daily News investigative report. Making matters worse, the Department of Defense (DOD) plans to mothball five more brand new C-27Js which are expected to be built by April 2014, increasing the existing waste of approximately 4,400 unused aircraft and 13 aerospace vehicles from the DOD and NASA, for a total value of more than $35 billion.
4. $379 million for Healthcare.gov
The cost to build Healthcare.gov is estimated at $319 million so far, and we've all seen the results. The total amount to be spent nationally on publicity, marketing, and advertising will be at least $684 million (according to data compiled by the Associated Press from federal and state sources), meaning twice as much money will be spent on the PR campaign then the actual budget of building the website, including this little treat:
Meanwhile, only 100,000 people have enrolled in the exchanges as of November, while 5 million Americans being notified their health insurance plans were canceled as a result of the new Affordable Care Act rules and regulations.
5. $321 million for redundant government IT systems
The Department of Homeland Security (DHS) spent over $30 million on two IT programs that serve the same purpose: both support "immigration enforcement booking management, which includes the processing of apprehended illegal aliens suspected of committing criminal violations of immigration law." However, DHS said it has no plans to address the duplicate expenditures. Similar problems have occurred at DOD, where the Air Force has two duplicate IT systems. In fact, according to a recent Government Accountability Office (GAO) report, three agencies have spent $321 million for overlapping IT purposes over the past several years. But what do they care, they're working with bottomless taxpayer cash.
6. A $300 million blimp. WTF?
The Army spent three and a half years and nearly $300 million building a football field-sized blimp called the Long Endurance Multi-Intelligence Vehicle (LEMV) to provide continuous surveillance over Afghanistan battlefields. The project was riddled with errors and ran overcost, so the Army just sold it back to the contractor.
7. Status update: Facebook gets $295 million tax refund
Despite bringing in more than $1 billion in U.S. pretax profits last year, Facebook reported a combined $429 million refund from federal and state tax filings. Uncle Sam cut Facebook a $295 million check to Facebook in 2012, according to an analysis of the company's 10-K filing. Facebook's first annual 10-K report, filed with the SEC, details the company's use of the employee stock option tax deduction, which lowered the company's income taxes owed to federal and state authorities by $1.03 billion last year. By providing stock options as a major form of compensation, to date, Facebook has claimed $3.2 billion in federal and state stock option deductions, $1.03 billion of which was used to offset their total U.S. pretax profit of $1.1 billion in 2012, and $429 million was refunded from its 2010 and 2011 tax bills. The remaining $2.17 billion in stock option tax deductions can now be carried forward by the company and used to offset future tax liabilities. Dislike.
8. Sugar daddy federal government loses $171.5 million in loans to sugar companies
In 2013 alone, the government lost $171.5 million because sugar companies could not pay back the government for money they had previously borrowed. Why the hell are sugar companies getting government loans in the first place, you might ask? Good question: The 2008 Farm Bill created the Feedstock Flexibility Program (FFP) to increase the use of ethanol and biofuels. Under this program, the government is required, in times of surplus, to buy sugar from processors and to re-sell the sugar to ethanol plants. Since the 2012-2013 sugar harvest season is the first to yield a surplus, taxpayers are witnessing the program's wasteful nature for the first time.
In August (the first use of the FFP), the USDA bought only 7,118 tons out of 100,000 tons of sugar offered for resale. USDA then sold this sugar to an ethanol maker at a $2.7 million loss. In its second purchase, USDA paid $65.9 million for 136,026 tons of sugar, and then sold it to ethanol makers for $12.6 million at a $53.3 million loss. Facing a global surplus of sugar for the foreseeable future, the Congressional Budget Office (CBO) said the FFP will cost taxpayers at least $239 million over the next ten years. Guess who pays for these careless trade losses? That's right, you do.
9. Militarization of your local police force to the tune $82.5 million
Everyone knows that Ohio State University football games can get wild, but campus cops may have finally taken things too far. Using a defense department program, the school and dozens of other police jurisdictions are receiving some of the military's surplus armored vehicles. At a cost of $500,000 each, taxpayers "gifted" $82.5 million in surplus Mine Resistant Ambush Protected (MRAP) tactical vehicles to law enforcement agencies in 165 communities, including dozens of rural and sparsely populated regions. Intended for large-scale emergencies, MRAPs are equipped machine gun turrets, bulletproof glass, and armored siding. From Bates County, Missouri to High Springs, Florida, local law enforcement agencies in rural and small-town communities are being equipped with the same military-grade tools that troops utilized to fight the War on Terror in Iraq and Afghanistan.
Some local residents have objected, noting that the weapons seem out of place here at home. But as one recipient county sheriff remarked, "It's intimidating, and it's free."
10. $65 million for post-Sandy "Open for Business" campaign
Of the $60.4 billion Congress appropriated for areas devastated by Hurricane Sandy, at least $65 million were put toward local television ads. Instead of giving aid to the people who needed it most, state-level officials in New York and New Jersey couldn't wait to spend the money on tourism-related TV advertisements. Adding insult to injury for some local residents, the flow of disaster aid has been both paltry and slow. As of October 2013, only one person on Staten Island has received help in the form of housing assistance. In contrast, funding from the Department of Housing and Urban Development (HUD) for television ads flowed quickly. According to the agency, Washington approved waivers for the states of New York and New Jersey to allow the states special permission to spend funds slated for disaster relief aid on tourism advertisements instead. Despite these efforts, tourism in the Jersey Shore was still down between 20% and 40% over the last year, calling into question the effectiveness of the ad campaigns in the first place.
11. Unused military facility gets $34 million
As troops in Afghanistan were closing bases and sending military equipment back home, the DOD was finalizing construction of a state-of-the-art, 64,000-square-foot command HQ facility on Camp Leatherneck that has never been occupied, and will likely be torn down or turned over to the Afghan government, as the facility will likely fall outside the camp's new security perimeter. The Marine Corps requested the project be canceled months after it was initiated in 2010. Nonetheless, the Air Force issued a task order to continue to build the facility in February 2011 and the U.S. government took control of it in November 2012.
12. Pimping the tax code to subsidize Nevada brothels with $17.5 million
Through the tax code, Uncle Sam is assisting the operation of the legal brothels in Nevada. These businesses are antiquated reminders of the state's silver boom (which started in the 1850s) yet they still manage to get special treatment in the tax code via deductions and expenses designed for businesses. These exemptions significantly reduce a brothel's overall federal income tax liability, even though annual revenues for the industry have been estimated at approximately $50 million. About 19 legal brothels currently exist in Nevada. Only 10 counties out of 3,007 in the U.S. allow prostitution, and all are in Nevada. The counties have just 300,000 residents. Brothels are hardly economic drivers for communities since most "are in rural areas with few people."
13. NASA looks for intelligent life in Congress for $3 million
Since NASA's space program has been grounded, they have started to search for intelligent life on Earth. Fittingly, NASA has chosen to explore Capitol Hill and the inner workings of Congress. Teaming up with Georgetown University, NASA will embark on its next mission by hosting a one-week seminar exploring "how Congress works," an endeavor almost as complicated and mysterious as the universe. Apparently, this mission is one that will last for five years, with a price tag of $3 million.
14. $914,000 to look for love on the internet
"The Popular Romance Project" has received nearly $1 million from the National Endowment of the Humanities (NEH) since 2010 to "explore the fascinating, often contradictory origins and influences of popular romance as told in novels, films, comics, advice books, songs, and internet fan fiction, taking a global perspective — while looking back across time as far as the ancient Greeks." In addition to the funds provided by NEH, the Library of Congress Center for the Book is also a participant in the project. Some of the recent website topics include:
• Team Edward or Team Jacob? "Are heroes like Edward romantic or controlling?" ponders the Popular Romance Project website, referring to the vampire character in Twilight.
• Call Me Maybe: The Popular Romance Project website celebrates Carly Rae Jepsen's hit song "Call Me Maybe" as a "fun, flirty invitation to a dreamy crush" and examines how the song's video has provokes some "very interesting conversations about contemporary romance."
• The Spy Who Loved Me: The romance of British Secret Service Agent James Bond, 007, is examined by the Popular Romance Project website, noting that "the recurrent death of romance is fundamental to the 007 franchise. What can popular romance scholars make of this motif?"
15. State Department pays $630,000 for Facebook "likes"
Hoping to increase its reach with an international audience, the state department spent $630,000 "buying fans" for its Facebook and Twitter accounts. The effort was undertaken by the department's Bureau of International Information Programs (IIP), which is responsible for "sustained conversations with foreign audiences to build America's reputation abroad."
The federal government actually pays people to like them, then pays people to post stuff for them hoping the people they pay to like them will like their stuff, then pays Facebook in tax refunds so the company will like them too. Does anyone else think the government looks like a desperate guy on a date at this point?
16. $390,000 for whatever the hell this is
Um, this:
17. $385,000 to study duck penises
Yale University launched a project in 2005, with funding from the National Science Foundation (NSF), to study the oddities of the duck penis. In 2009, the school received an additional $385,000 to continue its work. The grant will will expire in 2013. The key finding of the study was that he duck penis has a corkscrew-like shape. When asked by one news outlet why NSF decided to support an inquiry into the length of duck penises, a spokesperson responded, "Government funded grants for research have assisted in creating the barcode and Google."
18. Study concluding that wives should calm down for $335,500
If your wife is angry at you and you don't want her to stay that way, you might want to avoid passing along the findings of this government study: Wives would find marriage more satisfying if they could calm down faster during arguments with their husbands, according to government-funded research.
The researchers observed 82 married couples. "The marriages that were the happiest were the ones in which the wives were able to calm down quickly during marital conflict," explained one researcher. "When couples encounter strongly negative emotional events (e.g., anger arising from disagreements, disappointments, and perceived betrayals) they often fall into primitive, survival-oriented mode of interaction," the study says. "In these interactions, spouses repeatedly attempt to justify their own behavior; criticize the other spouse in a harsh, contemptuous ways; make broad, negative attributions; and engage in nonproductive cycles of demand-withdraw behaviors."
The National Institutes for Health (NIH) spent $335,500 to conduct the study. So remember fellas, the next time your wife is mad at you, tell her the NIH says to keep calm and carry on!
19. $150,000 for zombie protection (sort of)
This year, the National Science Foundation (NSF) paid an interactive media firm to create a "Web-based, action-adventure, narrative-based, role-playing game where the player defends against zombies in an effort to save the human race." NSF awarded the game designer $150,000 to craft the zombie experience. Even with enough money to buy thousands of textbooks, the grant designer will not be building a full game, but rather, three "mini-games." Ironically, the same amount of funding could have paid the annual salaries of almost five teachers in North Carolina.
Here's some math for you: This idea + taxpayer dollars = sucks
20. $53,000 for the Fort Hood mass murderer
Yup. Fort Hood Shooter Major Nidal Hasan continued to receive a federal salary, since the Military Code of Justice doesn't allow a soldier to be suspended until they are found guilty. He made $53,000 in 2013 and a total of $278,000 since 2009, when he killed 13 and injured 32. The Army defended the payments, noting that they stopped once Hasan was convicted by a military jury finally rendered a guilty verdict last summer. "He is innocent until proven guilty," Army spokesman Troy Rolan said.
That's how sweet of a gig it is to work for the federal government. Federal employees' job security is so great that workers in many agencies are more likely to die of natural causes than get laid off or fired, according to a USA Today study.
And Pelosi claims the "cupboard is bare?" That there are "no more cuts to make?"
Please, spending is out of control in Washington. But rather than do anything to fix it, Pelosi recommends we should "embrace the suck."
No thanks.