A Look at D.C.'s Unsolved Murders Exposes a Dark Side Of Our Nation's Capital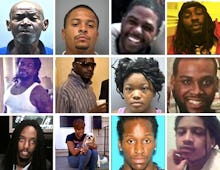 In 2013, there were 104 homicides in Washington, D.C. Of those murders, 53 cases went unsolved. And of those 53 unsolved cases, 51 involved black victims.
Black residents account for roughly 50% of Washington, D.C.'s, population, but almost 100% of the city's unsolved murder victims (pictured below).
What might be the most shocking part of this is just how unshocking it actually is. "Unfortunately, it's very typical," said Richard Bennett, a professor of criminology at American University.
Image Credit: Metropolitan Police Department and homicidewatch.org
There are many layers behind why this is the case.
Ninety-two of the 104 homicides — or 88% — took place in predominantly African American districts: the 4th, 5th, 6th and 7th. The homicides are usually "assaults gone awry," Bennett said. 
The clearance rate, meaning the percentage of solved cases, for 2013 was 81.8%. A clearance can happen in two ways: Either an arrest is made, or there is an exception (for example, when it's clear who is responsible for a homicide or suicide, but he or she is dead). Bennett said that for an urban area, D.C.'s clearance rate is "pretty good." 
One of the reasons why so many homicides go unsolved, however, is because they are gang-related (or crew-related, smaller gang subgroups divided by housing unit), Bennett said. In such cases, those involved may not cooperate with the police, and even threaten each other to not talk to the police.
Image credit: New York Times
Gwendolyn Crump, a communications officer for the D.C. Metropolitan Police Department, wrote in an email, "One must also consider that there are numerous variables that effect whether or not a case will close. These include available evidence, availability and cooperation of witnesses, and whether or not the perpetrator and the victim had a relationship. The detectives work diligently to close each and every case regardless of a victim's race, gender, sexual orientation, socio-economic status, or any other characteristic."
"For the past several years," she wrote, "the District has maintained historically low homicide rates. The 2013 year-end closure rate of MPD's homicide division was 80% which is significantly higher than the national average of 51% for cities of comparable size. The fact is the Department expends great resources to prevent homicides and to arrest the perpetrators of those that do occur."
Still, it cannot be dismissed that black residents make up half of the city's population, but far over half of the city's residents living in poverty. The chart below illustrates just how stark the gap is. 
Image Credit: City-Data
Michael Hardaway, who worked as a political operative in the capital for many years, said, "D.C. is a tale of two cities. Extreme poverty, wanton violence and lack of opportunity are a reality for many children and families who live there. That is unforgivable."
In just a few weeks, President Barack Obama will deliver his State of the Union address and focus on income inequality and lack of economic mobility. He'll give his speech from a fancy podium in an elegant room packed mostly with suit-clad white men. Meanwhile, there's a chance that just two miles away in southwest D.C., or three miles away in Skyland, shots will be fired and someone will be killed.
As the debate on income inequality heats up in 2014, politicians should not ignore the city under their very noses.