Tessanne Chin Won 'The Voice' Last Night With This Powerful Performance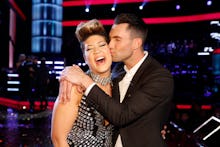 After a string of young winners who have disappointed as professional artists, The Voice has finally crowned a winner with the vocal chops to be a star. Host Carson Daly announced 28-year-old Tessanne Chin, a vocal powerhouse from Jamaica coached by Adam Levine, as the winner during Tuesday's Season 5 finale.
In Voice tradition, Chin sang one last song after her win to close out the show and the season. Her powerful rendition of "Tumbling Down," written by OneRepublic founder Ryan Tedder (who serves as the show's in-house songwriter), proved that Chin had earned her win.
The entire show was filled with stellar performances by the finalists. Contestants from throughout this season kicked the show off with "Tonight Is The Night," and during the broadcast each of the three finalists got to take the stage with a star. 16-year-old runner up Jacquie Lee of Team Christina rocked out with Paramore on "Ain't It Fun." Chin's fellow Team Adam member Will Champlin, who came in third, performed "Wake Me Up" with Aloe Blacc.
Eventual winner Tessanne Chin again proved the strength of her voice by more than holding her own with Celine Dion on "Love Can Move Mountains."
The star-studded finale also featured performances by some of the biggest names in pop music. OneRepublic treated viewers to a performance of their new single "I Lived," Celine Dion collaborated with Neo, and Lady Gaga turned her hit "Do What U Want" into a duet with Voice judge Christina Aguilera.