Meet the Openly Gay Athletes Traveling to Russia — May They Give Putin Hell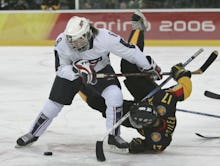 In a move that's garnering tons of attention, two of the athletes Obama picked as delegates to the 2014 Winter Olympic Games in Sochi, Russia are openly gay: tennis legend Bille Jean King and Olympic medalist in women's ice hockey Caitlin Cahow. It's kind of a subtle middle finger to Russian President Vladimir Putin over his openly anti-gay moves of late.
But these women are qualified delegates, beyond just their sexuality's implicit slap in the face to Putin.
In 1981, King became the first prominent professional female athlete to come out as a lesbian when ex-partner Marilyn Barnett filed a palimony suit against her. And King suffered for her sexuality: "Within 24 hours [of the lawsuit being filed], I lost all my endorsements; I lost everything," she told Edge. Today, however, King is regarded as one of America's tennis greats, perhaps best remembered as the former World No. 1 player who won a whopping 39 Grand Slams. She's also ... a pretty amazing person.
"I know it's idealistic, but I don't care. Our job in this world is to help each other, to champion each other, and we're in this world together, so let's make the best of it!" she told Stephen Colbert.
The Colbert Report
Cahow, who came out in a November interview with Go! Athletes, an organization that focuses on empowering LGBTQ athletes and their allies, doesn't consider herself a spokesperson for the gay community. She does, however, see a problem in women's sports:
"When we tried to do a video for the for You Can Play Project for the Canadian Women's Hockey League, we had a difficult time getting gay athletes — as well as straight athletes — to participate. It was like pulling teeth with many people, whether or not it was articulated, because the assumption is that is there is 'a guilty by association' philosophy with female athletes. You don't want to be perceived as being a lesbian, and if you are a lesbian, you don't want to fit into the stereotype. You don't want to gratify that stereotype with a response. That's something unique to women's sports. The NHL had an abundance of allies waiting in line to stand up and support LGBT athletes in their videos. Male athletes don't have the same stigma attached to their participation in sports."
But Cahow doesn't have to worry about her sexuality overshadowing her talent.
It's good to know that America will be represented by the best!
Caitlin Cahow